August 7 2006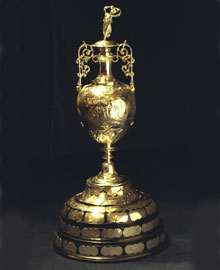 The Saint's epic guide to the 2006-7 Championship season.
Burnley
Last Season: 17th
In: Andy Gray (Sunderland - £750,000), Alan Mahon (Wigan - £200,000), Stephen Foster (Crewe – free)
Out: None
Manager: Steve Cotterill
One to watch: Andy Gray
My Prediction: 17th
How will we do? – 3/6
With the smallest squad in the Championship, Steve Cotterill performed minor miracles to keep Burnley above the relegation zone and out of trouble.
However, it could be said that their season did not have the most exciting of conclusions as they ended the last 7 games scoring 3 goals, conceding 3 with entertainment not at a premium.
Cotterill managed to turn 2 of the loan signings from last season into permenant deals this summer, so Alan Mahon and Andy Gray will be given more of a chance to shine. The team itself has a solid look about it.
Brian Jensen in goal is capable, former Chelsea players John Harley and Frank Sinclair keep the backline in check while in midfield Wade Elliott and Micah Hyde will be trying to find openings that the Clarets can exploit.
Although they will have to do it without their star striker Ade Akinbiyi, who moved on last season to add to Neil Warnocks collection of Palace strikers at Sheffield United. Cotterill has invested the money well, but Burnley will have to remain injury free if they are going to improve on last seasons 17th place.
This is something that I cannot see happening. The squad is thin, the season is long and while players like Harley and Sinclair have been around the league for some time now, Burnleys lack of goalscoring is their undoing. Gifton Noel-Williams, Steve Jones and Andy Gray will all have to start scoring more goals, if Burnley are to move up the table.
A drab 0-0 draw late in the season at Turf Moor probably summed up our season, inconsistent, ineffective and largely uninspiring.
We won at home and I fully expect us to again, while away we may be able to nick a draw. Burnley are strong at home so expect another drab affair.
Unless Cotterill can bring in more personnel to beef up the squad, Burnley will always find the going tough. A shame really as Cotterill is possibly one of the most underrated managers in this division and another season of lower mid-table beckons, because Burnley simply don't have the players.
Stoke City
Last Season: 13th
In: Vincent Pericard (Portsmouth – free), Martin Paterson (free),
Out: None
Manager: Tony Pulis
One to watch: Carl Hoefkens
My Prediction: 18th
How will we do? – 6/6
Stoke ended last season in turbulent fashion. Only 5 wins in 2006 saw their good start disappear and despite 2 big wins (including stuffing the Seaweed 5-1 at the Withdean) in April, fans will have been disappointed that backroom struggles dominated their season, rather than the football on it.
Johan Boskamp left at the end of the season but while he did bring a more continental style to Stoke, numerous bust ups with John Rudge, his own coaching staff and the board led to an inconsistent season on the pitch.
So the Icelandic owners of Stoke decided to bring back Pulis to instil a more pragmatic approach. What Boskamp has left behind is a team that is full of talent, but whether Pulis can get the best out of them, will be his challenge this season.
Pulis has managed to add Vincent Pericard to compete up front with Mamady Sidibe, Adam Rooney, Hannes Sigurdsson and Martin Paterson. The big question mark looms over Sam Bangoura, who has gone AWOL since preseason and may not have a part to play this season, after his no-show for training. His 9 goals last season promised more to come.
Paul Gallachers departure back to Blackburn after his successful loan spell which left him being the top scorer with 11, must be a sign to Pulis that goals look to be a problem. Sidibe and Pericard will have a lot to do this season.
At the back, former Everton keeper Steve Simonsen is still young and is improving all the time. The back four of Carl Hofkens, Micheal Duberry, Marlon Broomes and Clint Hill are all competent at this level.
Hoefkens is a player which can play in a number of positions and the fact that he is still there, is a welcome sight for Potters fans. Midfield and former Millwall man Peter Sweeney, Luke Chadwick and Darel Russell are players who are Championship level quality.
The problem is going to be goalscoring regularly to trouble the top half of the table. I can see us beating Stoke both home and away, unless we have an off day. Stoke are not going to be near the relegation scrap but could get dragged in, if they start poorly and find themselves looking at more teams above them than below come Christmas. Opening day and a victory against Southend will calm the nerves of Potters fans, but a defeat will send the alarm bells ringing.
Hull City
Last Season: 18th
In: Micheal Turner (Brentford - £350,000), Dean Marney (Tottenham – unsdisc), Sam Ricketts (Swansea - £300,000), David Livermore (Leeds – undisc)
Out: Robbie Stockdale (Tranmere – free), Kevin Ellison (Tranmere – undisc), Scott Wiseman (Rotherham – loan), Leon Cort (Crystal Palace - £1.25 million)
Manager: Phil Parkinson
One to watch: Stuart Elliott.
My Prediction: 19th
How will we do? – 6/6
Hull City have not had the quietest close or preseason so far. First, we nicked Peter Taylor from them and he returned to the club to sign Leon Cort.
Then, Hull moved to try to lure Phil Parkinson from Colchester United to replace the departed Taylor. Parkinson then subsequently resigned from the U's only to have it rejected and Hull find themselves not only with a High Court injunction forbidding them to speak to Parkinson, but finally Hull got their man, at the expense of losing the close season to prepare with the new manager.
The Tigers have a modern stadium and will rely on players like Stuart Elliott and Nick Barmby to help put bums on seats and score the goals to keep them out of the danger zone. Should they stay fit, this shouldn't be a problem and with Craig Fagan also netting last season, goals should be forthcoming.
Boaz Myhill in goal is a very competent keeper but the loss of Leon Cort will be felt. Not only did he help keep them out last season, he netted 4 times so Hull will look to Micheal Turner and Sam Ricketts to fill the void.
The midfield has been bolstered by the arrival of Dean Marney, who has found appearances at Tottenham limited since he burst on the scene in 2004-05. He could lift the side and with players like Alton Thelwell, Keith Andrews and Stephen McPhee, Hull appear to be in good shape, despite having no manager.
But that is where the good news ends. Hull have no other real quality in the side and it will take the new manager time to settle the side down and begin to take them to the next level. Hull have come a long way in a short space of time and while they have enough to remain in the Championship, I cannot see them improving on last season.
However, becoming an established Championship side is something that Hull fans will be happy for, 3 years ago they were in League 2. We should beat them at home and we may well get the victory away too, with Peter Taylor having the inside track on his former side.
Plymouth Argyle
Last Season: 14th
In: Sylvan Ebanks – Blake (Manchester United - £200,000), Barry Hayles (Millwall- £100,000)
Out:
Manager: Ian Holloway
One to watch: Akos Buzsacky
My Prediction: 20th
How will we do? – 4/6
After finishing 14th last season, Plymouth fans will have been pleased by the way that Tony Pulis had the side playing towards the end of last season. Inconsistent they may have been, but they had become difficult to beat.
So it would have been disappointing for all Pilgrims fans when Pulis went back to Stoke to take the reigns there. Ian Holloway has come in and the likeable West Countryman will inject passion down in Plymouth. His effervesance, which was the hallmark of his management style at QPR and Bristol Rovers, will be the driving force behind Plymouth this season.
Plymouth have not lost any players in the close season. After the mistake of trying to sign a big name last season in Taribo West, who flopped without making an impression. Holloway has managed to bring in youth and experience in the form of Sylvan Ebanks- Blake and Barry Hayles.
Add to this players such as Romain Larrieu, Lilian Nalis, Bojan Djordic, Nick Chadwick, Paul Wotton,Tony Capaldi and Akos Buzsacky and the makings of a good side is there.
So why I have placed them so low down? Fact is that during a season there will be injuries and suspensions, and I do not see a squad that has any depth. The first 3 games will be a good barometer of how their season is going to pan out – playing Wolves, Colchester and Sunderland.
A bad start could see them stuggle early on and even if they make a competent start, Christmas always sorts out those chasing promotion. Plymouth wont be one of them.
Holloway will need all his nous to keep Plymouth up. He will do this, but a lot is riding on the shoulder of Akos Busacky, who as their most creative player, will be asked to score, create and generally run the midfield. It might be all too much for him.