August 7 2006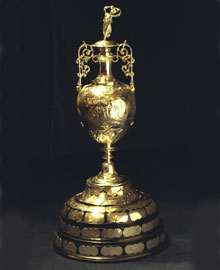 The Saint's epic guide to the 2006-7 Championship season.
Southend United
Last Season: 1st (League One Champions)
In: Steve Collis (Yeovil – free), Simon Francis (Sheffield United – undisc), Micheal Ricketts (Leeds – free),
Out: Bart Griemink , Andy Edwards , Wayne Gray (Yeovil – free), Duncan Jupp (Gilllingham – free), Mark Bentley (Gillingham – free),
Manager: Steve Tilson
One to watch: Freddy Eastwood
My Prediction: 21st
How will we do? – 6/6
Southend are back and with 2 successive promotions – would you bet against Tilson making it a hat-trick?
In short – yes you would. That is not to take away the monumental achievement that has been achieved as only 2 seasons ago, Roots Hall hosted League Two football.
This is the Championship and for all the best will in the world, the gap between League One and the Championship is going to be a step too far for this bunch of Essex boys.
There are reasons for Shrimpers fans to be optimistic though. Their forward line has both youth and experience and in the shape of Freddy Eastwood, a talent which a lot of Championship sides, including ourselves, ran the rule over the summer.
Tilson has acquired Micheal Ricketts who will be looking to kick start a career which all went downhill from the moment he got an England cap. Another familiar face will be Lee Bradbury, who is back at this level once again.
The old joke, take the R out of Bradbury and you are left with Badbuy, may not ring true this season at Southend. Woefully short of forwards, Bradbury will have to provide a few goals if they hope to remain in this division.
While scoring goals seems to be no problem last season for Southend, this season they may find keeping them out will be more of an issue. Darryl Flahavan is a talented keeper and with experienced defenders in Efe Sodje and Spencer Prior, they will be pushed to the limit.
Tilson added Simon Francis and Steve Collis in the close season, so a lot will be asked of these players also, as the squad is small in comparison to some established Championship clubs that they will encounter in the nether regions of the table this season.
Can they stay up? I believe that they can. Last season Luton gave us an almighty wake up call on the opening day but I cannot see Southend doing the same to us in our first home game this season.
They start at Stoke and I see that game being a good barometer to see how they can handle a team that may well be in the lower half of the table.
If Eastwood and Ricketts can rise to the occasion and they stay injury free, then Tilsons 3rd instalment of his works of miracles will be keeping Southend in this division. Keeping hold of free scoring Freddy, might prove to be the biggest challenge of all.
Barnsley
Last Season: 5th League One (Playoff winners)
In: Sam Togwell (C.Palace – undisc), Micheal McIndoe (Doncaster – undisc)
Out: Stephen McPhail (Cardiff – free), Barry Conlon (Darlington – free), Chris Shuker (Tranmere – free), Scott Flinders (C.Palace – undisc)
Manager: Andy Ritchie
One to watch: Micheal McIndoe
My Prediction: 22nd (relegated)
How will we do? – 6/6
Barnsley might be alphabetically top of the Championship, but that will be as good as it gets for the Yorkshire outfit, who are welcomed back after a 4 year absence.
A quite summer at Oakwell with relatively few players leaving or coming in, means that Barnsley will start the season pretty much with the side that ended it at the Millenium Stadium, despite a couple of notable absentees.
Stephen McPhail has moved on to Cardiff and he will face his old team mates on opening day, while Barry Conlon could not match his goalscoring exploits that began at Darlington, so he ended up going back there.
Scott Flinders has joined the PT revolution at Selhurst and his loss will be tempered by the fact that Nick Colgan is the first choice and his performances will be ever more important this season.
Andy Ritchie has managed to bring in Micheal McIndoe, who has boundless talent and showed last season what a match winner he can be, as he helped Doncaster to the Quarter-finals of the League Cup.
Derby had him on loan and decided against taking an option on him, so maybe they know something that Barnsley don't? In either case, he will be an exciting player and is my one to watch.
Paul Hayes will be tasked with scoring the goals and alongside him, ex Manchester United trainee Daniel Nardiello, Tommy Wright and Micheal Coulson will be asked to make the step up.
Sam Togwell, who there was no place for at Palace will try to show us all what we are missing out on and with last season regulars Paul Heckingbottom and Paul Reid, will try and make Nick Colgans' life easier at the back.
Barnsley will show lots of honest endeavour, with no frills as this was how Andy Ritchie plied his trade for Oldham and many others over a long career in football.
Yet with the side effectively much the same as last season and with no discernable improvement in quality, Barnsley will struggle and will be battling the drop all season long. It will be a battle that they will ultimately lose, possibly before the last weekened of the season.
They should pose no problems for us at home and the long away trip could yield points too. Barnsley will need to make Oakwell a fortress and start well. Cardiff will not be an easy start and Andy Ritchie will have his work cut out and while hard work will bring some points home, it just wont be enough of them.
Queens Park Rangers
Last Season: 21st
In: Nick Ward (Perth Glory – free), Egutu Oliseh (free), Adam Czerkos (Kolporter Korona – loan), Damion Stewart (Harbour View - undisc)
Out: Ugah Ukah (Nourese Calcio – free), Richard Langley (Luton Town – free)
Manager: Gary Waddock
One to watch: Gareth Ainsworth
My Prediction: 23rd
How will we do? – 6/6
I hate to see a London club go down, because it means that we have one less local trip to make. Last season, Millwall took the fall and I see that QPR suffer the same fate as them.
Gary Waddock was given a chance last season to show what he could do, but only 2 wins in his 3 months in charge last season, QPR plummeted towards relegation and were only saved, in reality by 3 other clubs being far worse than them. This season, I cannot see that being the case.
There are some positives; Danny Shittu is still there but for how long? Premiership clubs (ok – Watford) have been sniffing around and it will be a case of when, rather than if he stays. Marc Bircham, a lifelong Rangers fan is unsettled at the club he loves and while players like Gareth Ainsworth, Paul Furlong and Kevin Gallen still managing to be the leading lights in Shepherds Bush, the squad looks painfully thin.
Stefan Moore and Marc Nygaard struggled for goals last season (as did Gallen), the incoming transfers are a bag of unknowns and the players who were there last season, hardly cove