December 2 2008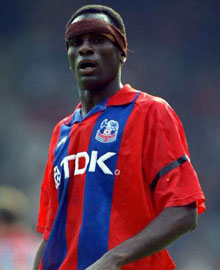 We unearth the top 10 Crystal Palace player nicknames.
10. One Size - Fitz Hall
If you're last name is Hall, you don't call your child Fitz do you? A nickname that is very obvious but brilliant at the same time.
9. Phyllis - Phil Barber
The left winger ran like a girl and had a curly permed haircut hence the nickname. Also became known as "Mr 110 per cent" due to his commitment.
8. Jolly - Simon Rodger
Palace's tough tackling midfielder was given this tag from the Jolly Roger pirate flags showing the skull and crossbones.
7. Ninja - Eric Young
The Singapore-born, Welsh international was renowned for wearing a brown headband to protect a gash on his head.
6. Cookie - Chris Coleman
The Welshman earned this nickname because he has a cookie tattoo on his bum.
5. Budgie - Johnny Byrne
A scorer of 101 goals for Palace in the 1950s and 60s, the England striker was dubbed Budgie beacuse of his non-stop chat on the pitch.
4. Spider and Rash the Smash - Rachid Harkouk
Called the Spider because he used to weave his way past opponents with his arms and legs everywhere. The midfielder was also known as Rash the Smash due to his sometimes wayward shooting.
3. Salad - John Salako
Some fans couldn't pronounce the winger's name when he burst into the first team from the youth ranks, so opted for something easier on the tongue.
2. Yogi - John Hughes
The Scotsman was given this nickname as his burly phyisique resembled the popular cartoon character Yogi Bear.
1. Doris - Paul Hinshelwood
The right-back's curly hair and thin frame made him look like a woman, hence the name Doris.
Not forgetting: John "Stonewall" Jackson, Kevin "Ticker" Taylor, John "Shovel" Sewell.
In Depth Crystal Palace Top 10s