December 19 2008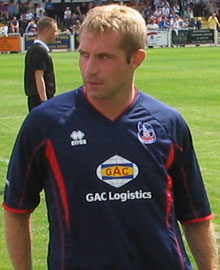 James Scowcroft netted on his comeback from injury in Crystal Palace reserves' 2-1 loss at home to Southampton.
The targetman came through the game unscathed after his recent hamstring problems along with recently injured Lee Hills, Neil Danns and Calvin Andrew.
Scowcroft saw a header smack onto the post before Andrew nodded against the crossbar as the Eagles dominated right from the start.
And they were rewarded with Scowcroft putting the Londoners in front 10 minutes before half-time.
Southampton conceded a free-kick after keeper Tommy Forecast picked up defender Jamie Hatch's "back pass" around eight yards from goal. Keiran Djilali then teed up Scowcroft to thump a low shot into the net.
Palace had more than enough opportunities to add to the scoreline and were made to pay for their prolifigacy when Southampton levelled two minutes into the second half through Romain Gasmi.
With their tails up, Saints deservedly took the lead after 57 minutes with a strike from Oscar Gobern who fired a low strike past past Darryl Flahavan.
Palace: Flahavan, Abnett, Wiggins, Danns (Comley 48), Ertl, Carolan, Djilali, Smith (N'Diaye 64), Scowcroft (Pinney 59), Andrew, Hills
Not used: Cadogan, Dayton.
Palace: Wilkinson, Kenlock, Parsons, Goldsmith, Edwards, Pringle (Parmiter 46), Randall, Adelakun, Pinney (Caprice 65), Roberts (Sekajah 83), Cadogan.