January 8 2009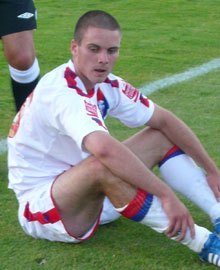 Leandre Griffit has been released by Crystal Palace and Rhoys Wiggins has joined Bournemouth on loan.
French winger Griffit arrived in August on a six month contract from Swedish outfit Elfsborg but only played six times.
Palace manager Neil Warnock decided the pacey 24-year-old does not fit in his plans and decided to let him go.
Warnock said: "I've spoken to Griff and we've decided that we are not going to offer him another contract. He wants to play regular first-team football and I don't think we can offer him that."
Welsh U21 international Wiggins has signed for League Two Bournemouth on a month's loan.
The left-back, 21, is highly regarded by Warnock and this move will give him first regular team experience. He goes straight into the squad for Saturday's home game with Bradford.
Bournemouth caretaker boss Eddie Howe said: "Rhoys comes highly recommended as a left-back. Carl Fletcher recommended him and he'll be a good addition."