January 27 2009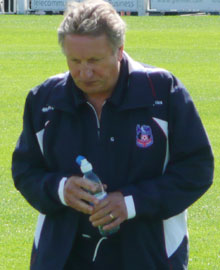 Neil Warnock admits he needs to bolster his squad after watching Crystal Palace's dismal derby defeat to Charlton.
Matthew Spring ended rock-bottom Charlton's 18-match winless run with the only goal of the game and condemned Palace to their third straight defeat.
With Ben Watson joining Wigan for £2million last week, the Eagles boss hopes to use some of the cash to bring in some fresh blood to boost Palace's play-off hopes.
"We got into positions but we didn't have that bit of quality which I'm hoping to bring in before the deadline," said Warnock.
"I thought they had one opportunity. I thought we had enough positions to create more but just need that little bit of quality, I'm hoping I can get someone in before the deadline.
"We're a bit predictable at times but there's nothing else change it in the squad. There were not many opportunities. Probably Victor Moses' header should have been a bit better but he's not had that many games, so it's understandable.
"We had loads of opportunities to gets crosses in. Why we want to play six passes when it's obvious to me Alan Lee can beat Murty at the back post, I'll never know, but that's life.
"Charlton's players should be disgusted with themselves - if they'd put that effort in when Alan Pardew was here they would not be in the position. They don't play Crystal Palace every week."
Warnock added: "I thought we were just a bit of quality short of dominating the game.
"We let them get a grip, they got the goal with a mistake and that was it, then it was a lesson in time wasting. I thought we should have played 15 minutes at the end."
Ad-dicks manager Phil Parkinson said: "I'm absolutely delighted," he said. "We knew the game meant a lot to the supporters but now the supporters know it meant a lot to the players as well. It was a proper derby and we stood up to it. There is no better time to get a win than against your fiercest rivals.
"The longer the run goes on the harder it becomes. But we said to the players that we had an 18-game run for survival and tonight is the first step on that road.
"Tonight has been a massive uplift in our confidence levels - we looked like a strong Championship side out there."