April 26 2001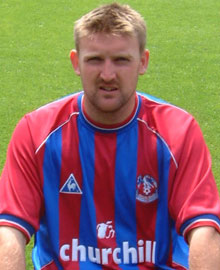 Midfielder JAMIE POLLOCK, who is currently on loan at Birmingham, said that he will have to make a decision on his future at the end of the season.
He is out of favour at Palace after falling out with manager Alan Smith and chairman Simon Jordan.
The former Bolton Wanderers and Manchester City ace extended his loan spell with Birmingham for second month last week.
POLLOCK's brief spell at Palace is rapidly coming to an end and he is unsure what the future holds for him.
He said: "I am honoured to be playing for Birmingham as they are a fantastic club. But I am under no illusions about what my role is here as the manager bought me in as cover.
"But when the summer comes, I am going to have to sit down and review my future, because the chairman at Crystal Palace has made it clear that he does not want me there."
Meanwhile, The Eagles' reserves beat Reading by three goals to nil on Wednesday evening.
It was their third successive win under Terry Bullivant. The goalscorers at the Crystal Palace National Sports Centre were Sean Hankin, Stephen Kabba and Roscoe D'Sane.
The second string take on Brighton and Hove Albion at Dulwich Hamlet FC on Thursday afternoon.