March 8 2009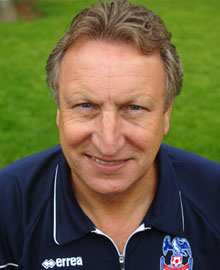 Neil Warnock heaped praise on loan striker Anthony Stokes after he scored in Crystal Palace's 2-1 win over Preston.
Stokes cancelled out Billy Jones' opening strike before Neil Danns grabbed the winning goal for Warnock's men.
Warnock said: ''Sometimes players can lose their way but Anthony knows that everybody can't be wrong.
''He's looked in the mirror and he hasn't had many takers in terms of clubs coming in for him.
''It's great for us to be able to take him, at a realistic price as well, and he's shown what he can do. I like these lost souls. He's bright and breezy and has given us another dimension.''
On talk about reaching the play-offs, Warnock joked: ''We don't talk about stuff like that. We've got three away games coming up where we cover 1,200 miles in just a few days. If we win all of them, I'll show my backside on Sheffield Town Hall steps.''
Preston boss Alan Irvine said: ''It will go down to the final day, at the top and bottom of the table. There's nothing between the sides at the top and bottom so the funny results in this league don't surprise me.
''I thought a few weeks ago that it would need to be a very high total - maybe 75 - to get in the play-offs but now I'm not so sure.
''Teams are dropping points so it might be lower than that now. Our home form is good but we will need to start picking up points on the road as well.''