March 16 2009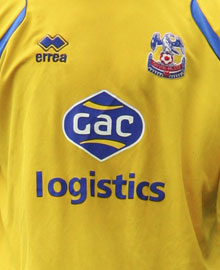 Jamesey shakes his head in bewilderment as our exasperating team defied all expectations and turned in a win against Swansea City.
Jekyll and Hyde; peaks and troughs; anger and joy; depression and elation; Laurel and Hardy - well, pick your own phrase to describe our present run of form.
For once, this Palace supporter was bathed in a warm glow on Saturday evening, as all my personal results went right.
Liverpool trounced Man U 1-4 at Old Trafford; Wales huffed and puffed but managed to beat Italy at rugby in Rome; and, of course, the final diamond icing on the cake was our 1-3 victory over the Swans in the Liberty Stadium.
So another yo-yo week goes by, ranging from joy after our excellent 2-1 at home over Preston North End (Mar 7) to deep misery after chucking away a two-goal lead to lose 4-2 to Burnley at Turf Moor (Mar 11).
So the scene didn't look all that promising for another away game against a team who had only lost once at home this season.
But you never really know with Palace and with Nick Carle, Victor Moses and Lee Hills back in the side, CPFC produced a battling win against an in-form Swansea.
Listening to the commentary on Palace World, I found the references to Shefki Kuqi as "Cookie" rather confusing.
At first, I thought perhaps Chris "Cookie" Coleman had quit his Coventry manager's job and returned to us as a striker, a job he did very ably back in the early 90s when Steve Coppell had run out of forwards and dragooned our centre half into the role!
Talking of Shefki Kuqi, what an amazing rehabilitation he has undergone.
He never seemed to be able to justify his big money reputation at Selhurst and the crowd's dissatisfaction with a string of lacklustre performances came to a climax in February of last year.
Substituted and jeered off the pitch Shefki made his "up yours" gesture to his own fans and was fined and put on the transfer list. It looked like his Palace career was definitely over and on-loan spells didn't work out for him either.
Nevertheless, when injuries and other circumstances saw him picked again for the team by Neil Warnock, he started to let his football do the talking and gradually gained the affection of the fans by scoring goals and looking head and shoulders better than the rest of our strike force.
In all probability his high wage will see him depart from Palace at the end of the season although as he approaches his 33rd birthday buyers might be thin on the ground. Come what may, he will certainly leave our club as a minor cult figure who, like Dean Austin in the 90s, made the difficult transition from derided no-hoper to well loved character.
Well, the fixture dates and timings have managed to jinx me yet again as I have just realised that our televised fixture against Reading (kick-off 5.20) on Saturday (Mar 21) coincides almost exactly with the crucial game in deciding the outcome of the Six Nations rugby championship - my beloved Wales versus Ireland in Cardiff.
Just my blasted luck.
---
Email Jamesey with your comments to jevans3704@aol.com
In Depth Jamesey's Veteran View Index