March 23 2009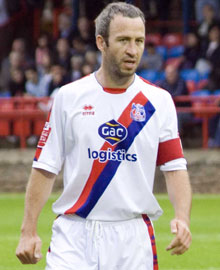 Crystal Palace midfielder Shaun Derry will miss the last few games of the season to have an operation on his shoulder.
The Eagles skipper suffered the problem in the FA Cup tie against Leicester City in January and will continue to play through the pain barrier to ensure Palace finish the campaign as high as possible.
"Itís disappointing for me," said the 31-year-old. "I did my shoulder against Leicester in the cup and we didnít really know the severity of it and I done it again against Wolves.
"Itís similar to Paddy McCarthy's though his actually dislocated, mine seems to be popping out and causing problems so it is finding the right time to get the shoulder done.
"I have never had a problem with it before so it is just a case of letting the surgeon do his bit and getting back bigger and stronger for next season.
"The surgery is going to take two to three months to repair so it is going to be a case of getting it done sooner rather than later because if it is done just out of season then I am going to be missing a fair chunk of pre-season so it is about doing the sensible thing and getting it done as soon as possible.
"Without turning my back on this season, obviously itís going to take a ridiculous run of results to get anywhere near the play-offs and we know this season is petering out into mid-table obscurity."