March 31 2009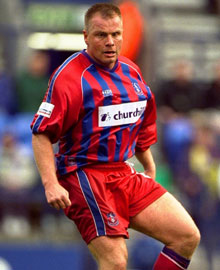 The top 10 players to have sqeezed into the XXL size shirt for Crystal Palace.
10. Andy Roberts
Capable of playing at the back and in the middle of the park. Some people said he grew so big he occupied both areas at the same time.
9. Marco Gabbiadini
Marco arrived at Palace proclaiming he was hungry for goals. Instead, we got a forward hungry for pies.
8. Tommy Black
The winger made a great start to his Palace career but eventually lost his appetite for football and saved it for cakes instead.
7. Micky Droy
Lumbering centre-half protected Palace's defence during the mid 1980s mainly because strikers could not get past his gut.
6. Neil Shipperley
The burly target man returned to Selhurst Park after stints at Forest, Barnsley and Wimbledon twice the player he was before - literally.
5. Andy Morrison
Joined on loan from Man City at the end of 2000 and made five appearances - a player with more Chins than a Hong Kong phonebook.
4. Kevin Miller
The keeper was told to drop the pounds but instead, he dropped shots and crosses. His display in the 6-0 drubbing at QPR on the last day of 1998/99 was a disgrace.
3. Jamie Pollock
The midfield hatchet man was publicly slated by Simon Jordan who told him to sort out his weight problem and was eventually forced out of the club.
2. Tomas Brolin
A talented player who arrived at Palace with a reputation bigger than his waistline but retired from football after 13 matches with the Eagles due to a lack of motivation for the game.
1. Neil Ruddock
Razor's Palace debut was delayed as the club reportedly did not have a pair of shorts big enough to fit him.
* An honorary mention must go to Johnny Byrne who was a big fat bloater in his second spell with the club.
In Depth Crystal Palace Top 10s