May 13 2009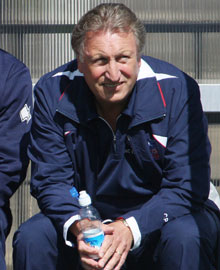 Jamesey takes a personal look at the sweet (not many) and sour (quite a lot) moments of a generally mediocre season.
Hot on the heels of an unexpected play-offs spot in May 08, Palace optimists (not entirely an extinct sub-species) hoped for a barnstorming start and an even better scenario with our fiery manager.
I cheerfully travelled down to my earliest friendly ever on July 12... the opponents were Bromley FC. It was a magical afternoon for me as the gloriously old-fashioned ground in suburbia took me back to my youth in the 1950s.
Dougie Freedman wore the No 9 shirt and we harboured some hopes that he might be part of Neil Warnock's plans for the coming hostilities. But, of course, that was not to be.
The 1-1 result was irrelevant to me, after a wallow in nostalgia of times lost in a gentler and less aggressive age.
The other memorable pre-season event was Dougie Freedman's testimonial in late July against Fulham. Another draw but who was there for the football?
I had the great pleasure of shaking the hand of, and exchanging pleasantries with, Aki Riihilahti and shared the company of many other legends and near-legends who had been allocated seats surrounding mine.
The real thing started with a damp and dull draw at home to Watford, followed by a series of results that fell far short of our expectations.
The end of September saw our first genuine reason to smile when Chortletown Pathetic came visiting and were despatched 1-0 - our first league win against the Clowns in 12 years. That game also saw the Selhurst reappearance of Shefki Kuqi who was to undergo an amazing rehabilitation as the season went on.
After an "up yours" gesture to the fans looked like the end of his Palace career, Shefki began to look like the striker we had paid for and is now a firmly established club favourite.
By the end of October the news that Neil Warnock intended to retire at the end of the 09-10 season, combined with Simon Jordan's long-avowed intention to get shot of the club as soon as possible, hardly helped morale and motivation at CPFC. Our hopes of another play-off place or even automatic promotion were looking distinctly threadbare.
In November we notched our fourth consecutive away win against Coventry at the Ricoh Stadium and things were looking rather more promising as we were picking up a few more points and climbing the table.
January turned out to be a cold and miserable month as we were thrashed 1-4 at home by Ipswich, booted out of the FA Cup by Watford and, horror of horrors, lost 1-0 to the Clowns, languishing in bottom spot in the CCC, at the Valley. The Charlton result really hurt and rather emphasised that we were not really going anywhere as far as promotion hopes were concerned.
Things got even worse at Selhurst when we were given a priceless advantage against Blackpool. The Tangerines' keeper was sent off soon after the game started and even then we managed to squander three points against 10 men, losing 0-1.
The snow and ice in February gave us an enforced rest period but even then Simon Jordan got us into the wrong sort of news by cutting ties with the Croydon Advertiser on some silly pretext or other.
Even my long-time loyalty was being tested, apart from my old bones being frozen by one of the coldest winter spells for decades.
So in the eyes of some Palace fans I committed the ultimate sin and declined to attend our evening match at home to Birmingham City in late February. I freely admitted my dreadful behaviour in the Veteran View column and was duly taken to task by sanctimonious "I'm a better Palace fan than you" type people.
Would these same people have attended most home games when we descended from Division 1 to Division 3 in consecutive seasons in the mid-70s, I asked myself with a brave smile?
As the season drifted onwards with no consistency in our results, I was beginning to see why I had always been irritated by Neil Warnock before he became Eagles manager. After every loss, it was always the fault of the referee or the linesmen or cheating opposition players. He probably had good points in some instances but most of the losses I witnessed were because we were the worst team.
Two more losses over Easter certainly put the tin lid on any faint hopes of a play-offs place and one had to ask - would there be any point in miraculously getting promoted and showing form like that?
And so the season ended with a 0-0 draw against Sheffield United who, as I write, will meet Burnley at Wembley for the third promotion place in the Premiership.
We finished in 15th spot in the table and with the club still unsold (and who in their right mind would buy a debt-ridden club with a mortgaged stadium in the middle of a deep recession?) one can only wonder what the future holds.
At least we will be wearing our real colours come August , red and blue, not looking like third-rate Real Madrid copyists!
---
Email Jamesey with your comments to jevans3704@aol.com
In Depth Jamesey's Veteran View Index