June 16 2009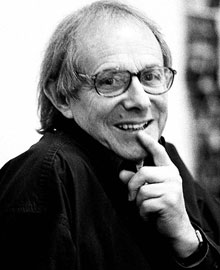 Jamesey strolls down to his local multiplex to catch "Looking for Eric" and is disappointed by a great director's latest movie.
Football is a subject that has not fared well in the cinema. It's hard to say why but until I saw "The Damned United" earlier this year only a couple of efforts - "ID" and one third of "Tickets" were the only efforts worthy of mention in my view.
Anyhow any film by the superb director Ken Loach has to be a candidate for our attention.
Ken has always been just about the opposite of my own take on life and politics, and has reached the grand old age of 72, still a committed left-winger and supporter of radical causes.
I was a dedicated Marxist and supporter of the working classes until I reached the age of about 22 and worked my way backwards into my current position of supporter of anything that keeps my pension viable and our stock market investments still worth collecting.
But I have loved just about every film Loach has directed so far, which goes to suggest that the touch of a great artist can go beyond politics and prejudice.
Before I ramble too far (well, it is the summer off-season, Ed) I am reminded of my lifelong loathing of the music of Gilbert and Sullivan. That is until Mrs J, a decade or so ago, dragged me along to see another genius of British cinema, Mike Leigh's wonderful exposition of the lives and troubles of the Victorian duo.
I still hate their music but "Topsy-Turvy" is one of my top 10 movies of all time.
Coming back to Monsieur Cantona who, of course, will always be a bete noir to Palace supporters after the notorious events on that winter's eve in 1995 when he was banned for nine months after assaulting a yob who had rushed down to the hoarding to scream venom and abuse at a sent-off player.
They were both as bad as each other in my view but of course the sin of assaulting a spectator will always outrank whatever the spectator did to provoke it.
Despite the almost universal gushings of praise for the film, I was at somewhat of a loss to work out what it was trying to say.
Without giving too much away to readers who hopefully will go and enjoy the film, the central character is a mid-life crisis Mancunian postman with big mental problems, two criminal resident stepsons and a life that is disintegrating fast.
He is visited by a spectral version of Cantona, his hero, who spouts dubious philosophy and advice on how the postman, Steve, can get his life back on the rails.
All the aforesaid is quite acceptable until Loach ups the ante and turns the film into an uprising of working class Man U fans against a psychotic firearms dealing thug.
There are, naturally with a director of Loach's enormous talent, some great bits...Cantona playing an appalling version of the Marseillaise on trumpet from the balcony of a Manc high-rise block to name but one.
It's not really about football at all, but about the little man's struggles against the vicissitudes of life, a common Loach subject.
Despite my lukewarm response, I would urge anyone to get down to their local multiplex and see an intelligent and thoughtful film by a top British director. Enjoy and finance some quality cinema rather than subsidise Hollywood mush.
---
Email Jamesey with your comments to jevans3704@aol.com
In Depth Jamesey's Veteran View Index