June 23 2009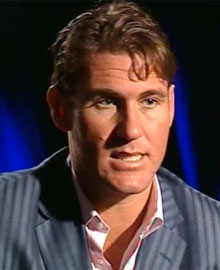 Jamesey hopes for his sake that Simon Jordan's film producing career is as successful as our chairman thinks it will be.
In my last column I reviewed Ken Loach's latest movie, "Looking for Eric" and was unable to find much to enthuse about. In fact without the film's obvious Palace connection, the kick-boxing incident of 1995, it probably wouldn't have merited a mention.
Hot on the heels of the Loach picture comes another vehicle for the silver screen with obvious Palace connections. "Telstar" was produced and financed by Aspiration Films which just happens to be the cinematic arm of our chairman Simon Jordan.
While it's good to know that Simon is spending his (remaining?) millions on something as worthwhile as British film-making, one might have hoped that maybe a spare hundred thou or so could have been found for a lick of paint for the Arthur Wait or a few tins of mastic to plug the leaks in the Main Stand's tin roof.
Judging by the lukewarm reactions of UK film distributors, "Telstar" is in no way going to be a box office bonanza for Simon and his merry men. Despite its possibly attractive vintage popular music theme, you will have to get to the Ritzy, Brixton, or the Odeon, Holloway, or one or two more venues to take in this movie.
Can I also say that although I am dealing with "Telstar" in this column I have no intention at all of ever inflicting it on my own eyes and earholes.
I am old enough to remember the horrible noise created by Joe Meek and the Tornados in 1962 and am not remotely interested in whether the zillion-selling dross was recorded in a toilet or not. But if noises not dissimilar to Chilean nose flutes filtered through tapioca pudding appeal to you, then the film is obviously a must.
In an article in Screen Daily.com., Simon, labelled the "wannabe mogul", says: 'If it's your money, you get to do it your way. I didn't have to do some apologetic British compromise."
"Telstar" director Nick Moran says that Aspiration Films will "make more great British films, true stories or based on true stories,' More great British films? Er, rather presumptuous, eh Nick?
Simon, in his usual modest manner chips in, saying: 'I believe in myself. I need to have control over something. I made (Telstar) because I related to the subject matter. It was about a genius and stories of genius should be told." Well, you should know, Simon.
I have to admit that Simon's hiring/firing football manager rate has slowed in recent times but his closing statement seems to show little understanding of cinema or football.
Jordan likens film-making with running a football club. 'Football is very similar to making films,' he suggests. 'With one you have a football manager, with the other it's a director. Their job is to extract the right performance from either the players or the cast.'
So, Nick Moran, on your next great British film directorial project, beware the producer's vote of confidence...
---
Email Jamesey with your comments to jevans3704@aol.com
In Depth Jamesey's Veteran View Index