June 27 2009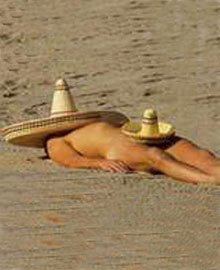 Despite the excitement of Freddie Sears's loan and Rhoys Wiggins's injury, Jamesey braves the wrath of HOL to see a film with no Palace connections whatsoever, apart from a tinge of the absurd.
Well, it's three in a row, folks.
A couple of weeks ago I reviewed the movie "Looking for Eric" and, despite the general approval of the critics, I thought it was awful and unworthy of the previous work of the great director Ken Loach.
A couple of emails I received actually berated me for using the C-word (Cantona, that is) on this website at all. An extraordinary attitude really and one I find difficult to comprehend.
Should we censor all references to players and managers we don't like? According to some idiots, yes.
Last week I dealt with Simon Jordan's production of "Telstar" and was accused of reviewing a film I hadn't seen, although I didn't actually review it at all and said so right at the start.
Yes, I did take a pop at Simon Jordan and have done increasingly in the past year or two because I think he is taking us down an increasingly dark tunnel though his obvious lack of interest.
I was amazed to hear that some people didn't regard the efforts of Joe Meek as a 60s flash in the pan but as some sort of cultural peak.
Mature adults who might even have unwittingly heard the music of J S Bach, Mozart, Beethoven, Charlie Parker, Louis Armstrong and John Coltrane and who seriously rate the paltry burblings of Meek rather welcome a long overdue, severe ear syringing.
Ignorance is bliss on that front.
And so, to my shock, there at my local multiplex was a Mexican art film, "Rudo y Cursi", directed by Carlos Cuaron and with two big Hispanic stars Gael García Bernal and Diego Luna.
So Mrs J and myself joined the throng - ourselves, two fat people who muttered to themselves thoughout and a giggling fellow in the front.
My main beef was that the English subtitles were flashing on and off continually to keep up with the machine-gun Mexican sound-track and it was difficult to jump up and down from picture to words,
But it's not Sr Cuaron's fault that my Mexican Spanish is poor but I do feel that in cinematic terms that too much dialogue sometimes points to an indifferent picture.
There is a fair bit of football after the two banana worker siblings - one a keeper, the other a striker - are drafted off to Mexico City by a shyster Argentine agent to play for opposing sides and there are some pretty good gags mixed in the rather unco-ordinated mix.
But if I were you, I wouldn't bother.
Enough films for now and roll on the next accessible (for me) CPFC friendly.
*GOVERNMENT WARNING. Much of this column is intended to be humorous and not to be taken all that seriously.
Banana brothers... Mexican rivals
---
Email Jamesey with your comments to jevans3704@aol.com
In Depth Jamesey's Veteran View Index