June 29 2009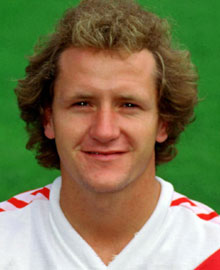 Crystal Palace survived relegation with two games to spare and that saw the end of manager Alan Mullery who was sacked.
Mullery made sweeping changes for the start of the season, selling keeper David Fry to Gillingham, Paul Baxter to Leytonstone, Tommy Langley to AEK Athens, Alister Brown to Walsall and Paul Hinshelwood moved to Oxford. Ian Edwards had to retire through injury.
Incoming were: Forwards Tony Evans on a free (Birmingham), Stan Cummins also on a free (Sunderland) and JOHN FASHANU (on loan from Norwich), free transfer JOHN Lacy (Tottenham), Andrew McCulloch (Sheff Wed), Leslie Strong (Fulham), keeper George Wood (Arsenal).
Top scorer Kevin Mabbutt injured his knee in a pre-season friendly and would miss most of the campaign.
August
Crystal Palace got the new season off on a bad note, losing 2-0 at home to Manchester City, but there was joy in the Milk Cup as Peterborough United were beaten 3-0 in the first leg.
September
Palace had to wait until their final game of the month for the first win when they triumphed over Portsmouth after being held by Shrewsbury and Fulham and defeated by Huddersfield, Newcastle United. They were dumped out of the Milk Cup by Fourth Division side Peterborough after losing the second leg 3-0 and exited on penalties.
FASHANU returned to Norwich after two games and Chris Jones departed for Charlton.
October

The Portsmouth win inspired victories over Middlesbrough and Cambridge, but the team went back to losing ways against Derby, Grimsby and Barnsley and ended the month in 17th place.
Wales international Peter Nicholas re-joined from Arsenal and Shaun Brooks left for Orient.
November
Three victories were recorded - Cardiff, Oldham and Sheffield Wednesday - as Palace were held by Leeds and Chelsea in their best month of the campaign so far. It pushed them up to 12th.
December
But things went downhill fast as the Eagles crashed to defeats to Swansea, Carlisle, Blackburn, Brighton and Charlton plus a draw with Shrewsbury to end the year in 18th. Neil Banfield quit Palace for Orient.
January

Palace started the month by knocking Leicester out of the FA Cup. In the league, Newcastle were beaten but there were losses to Manchester City, then an FA Cup replay defeat at Division One West Ham after the first match at Selhurst ended all square.
February
After a win over Middlesbrough, Palace drew with Fulham and Barnsley before losing to Grimsby. Teenager Phil Barber was snapped up from Aylsbury for £7,000.
March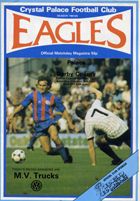 Just one set of three points were gleaned in March - against Portsmouth - as Palace lost to Oldham Athletic and drew with Leeds and Huddersfield. Approaching the end of the season, Palace sat just one place above the drop zone.
April
In a busy month of fixtures, Palace picked up two wins (Charlton and Cardiff), a draw with Cambridge United and four losses (Derby, Chelsea, Brighton, Sheffield Wednesday). It left them two places and four points above the relegation zone with three games to go. Tony Evans was sold to Wolves.
May
The Eagles were victorious against the relegated Swansea in the first game this month which moved them seven points clear and safe. They drew with Carlisle and lost to Blackburn on the final day to finish 1983/84 fifth bottom.
Mullery was dismissed and replaced by Dave Bassett in the Selhurst hotseat - Ron Noades' fourth manager in four years. But Bassett only last four days at the helm before returning to Wimbledon. Steve Coppell, at the age of 28, became the youngest manager in the league when he took over as new boss with former Palace star Ian Evans his assistant.
1983/84 league table progress graph
Player of the Year: Billy Gilbert
Young Player of the Year: Garry Stebbing
View every Player of the Year winner
Top Scorer: Tony Evans 7 (7 league, 0) All goals came away from home!
View the top scorers for each season
Average attendance: 8,119