July 6 2009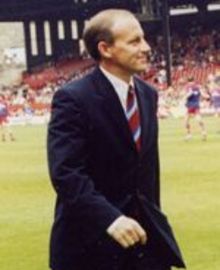 New manager Steve Coppell began laying the foundations for a successful future as Crystal Palace comfortably finished clear of the Second Division drop zone.
Coppell, assisted by Ian Evans, beefed up his squad with the acquisition of winger Alan Irvine from Everton, left-back Brian Sparrow from Arsenal, forward Trevor Aylott from Luton, Tony Mahoney from Brentford and Kevin Taylor from Derby. Ken O'Doherty from Dublin University was another signing and defender Chris Whyte joined from Arsenal on loan.
Departing were out-of-contract duo Vince Hilaire (Luton) and Player of the Year Billy Gilbert (Portsmouth). Paul Wilkins left for Preston and David Giles to Birmingham.
August
Not a bad start to the season for Crystal Palace as they drew with Blackburn in the league and beat Northampton in a Milk Cup first leg tie.
September
Palace crashed to defeats against Shrewsbury, Birmingham, Brighton and Manchester City, but won against Sheffield United and Leeds. Brighton's 1-0 victory pushed Palace to the bottom of the Second Division.
The Eagles drew 0-0 at Northampton in the second leg Milk Cup tie to go through 1-0 on aggregate. In the next round, they were defeated 2-1 at Sunderland.
October

Further losses against Barnsley, Carlisle and Wolves plus a draw with Fulham meant Palace ended the month third-from-bottom.
Palace exited the Milk Cup after their goalless draw at home to Sunderland meant the Mackems went through on aggregate.
Steve Galloway came in from Sutton Utd, but a homesick Stan Cummins went back to Sunderland and Leslie Strong Rochdale also left.
November
Palace ended a poor month of results - there were losses to Wimbledon and draws with Shrewsbury, Huddersfield and Portsmouth - with a great 3-0 win against Oldham. However, the Eagles still sat in the drop zone.
Coppell swooped for ex-Palace schoolboy Andy Gray from Dulwich Hamlet. John Lacy left for Norway, Andrew McCulloch signed for Aldershot and Whyte ended his loan stint from Arsenal.
December
This was a mixed month for Palace as they beat Grimsby and Charlton, drew with Middlesbrough and Cardiff but were thrashed 5-0 by Oxford United. These results pushed them up to 17th position.
January

Local rivals Millwall knocked the Eagles out of the FA Cup 2-1 in a replay after the first match ended 0-0 at Selhurst. In the league, Palace play out a stalemate with Notts County. Peter Nicholas was sold to Luton for £150,000.
February
This month saw Palace win against Oxford United, but lose to Manchester City, Huddersfield and Wimbledon. The Eagles occupied 18th.
March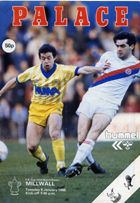 A win over Carlisle was the high point in month that contained two draws - Fulham and Wolves - and defeats to Barnsley and Sheffield United. The latter was Mabbutt's last game for the club. Palace remained in 18th place.
Big veteran centre-back Micky Droy came in from Chelsea and full-back Tony Finnigan arrived from Finland.
April
April saw Palace play eight matches. The three wins picked up against Notts County, Portsmouth and Blackburn were vital if Palace were to avoid relegation. Victory over high-flying Pompey and Blackburn were particularly sweet.
Palace were defeated three times to Leeds, Birmingham and Oldham and drew with Brighton and Charlton. At the end of the month, the Eagles were seven points above the relegation zone with three matches to go.
May
A huge win over Middlesbrough ensured Palace's safety, so victory over Cardiff and defeat to Grimsby were immaterial. Palace signed off the season in 15th.
1984/85 league table progress graph
Player of the Year: Jim Cannon
Young Player of the Year: Dave Lyndsay
View every Player of the Year winner
Top Scorer: Trevor Aylott 9 (8 league, 1 cup)
View the top scorers for each season
Average attendance: 6,440
See each season's average attendance
In Depth The 1980s revisited