July 12 2009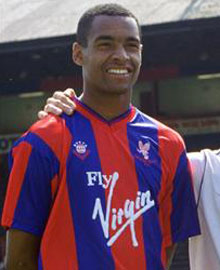 Crystal Palace missed out on the Second Division play-offs on the final day of season 1986/87.
Anton Otulakowski joined from Millwall for £12,500 to become the first player signed through Palace's Lifeline scheme - a new fund set up by Ron Noades. Fans subscribed each month and half the money went to the club with the rest given out in weekly prize draws.
August
Crystal Palace got of to an excellent start by winning their first two games - Barnsley and Stoke. Striker Trevor Aylott moved onto Bournemouth.
September
This month saw Palace record three wins - Bradford, Blackburn and Huddersfield - and three defeats Sheffield United, Derby and Reading. In the Full Members Cup, Palace lost to Portsmouth and drew with Bury in the Littlewoods Cup first leg. Henry Hughton left for Brentford.
October

A league win over local rivals Millwall moved Palace top of the Second Division but they crashed to defeats against Leeds, Birmingham and Shrewsbury to end the month in ninth. Palace beat Bury in the Littlewoods Cup and were held by Forest to a draw in the next round.
November
Coppell swooped for Leicester striker Mark Bright and centre-back Gary O'Reilly joined from Brighton for £40,000.
Not a great month as Palace collected one win (Sunderland), a draw (Ipswich) which saw Bright score on his debut and three losses (Plymouth, Grimsby and Oldham).
Palace bowed out of the Littlewoods Cup with a second leg defeat to Forest. Injury meant Otulakowski played his last game for the Eagles and he eventually moved to Hastings as player-manager.
Micky Droy joined Brentford on a free transfer, while youngster John Salako made his mark from the youth set-up.
December
There were victories for the Eagles this month against Hull, Huddersfield and a Boxing Day success over Brighton. Defeats against Ipswich and Portsmouth were the other results which left Palace in 10th place.
January

Palace won their first two league matches of the year against West Brom and Derby but lost out to Barnsley to settle in seventh spot. In the FA Cup, the Eagles eliminated Forest but bowed out to Tottenham in the next stage.
February
A draw with Bradford was sandwiched inbetween losses at Stoke and Reading. But a win over Blackburn ensured Palace ended February on a high and moved them to eighth.
March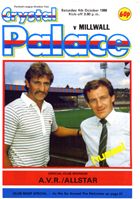 Alan Pardew came in from from Yeovil. Going out the door were Andy Higginbottom to Maidstone and David Lindsay to Welling.
A 6-0 thrashing of Birmingham was followed by a defeat to Sheffield United, a win over Leeds, draw with Shrewsbury and a great victory over local rivals Millwall. It propelled Coppell's men up to sixth place and within touching distance of the play-offs.
April
As Palace looked to clinch a spot in the play-offs, they managed wins over Grimsby and Oldham, draws with Plymouth and West Brom, but lost to basement club Brighton on the last game of the month to fall a place to seventh.
May
A loss at Sunderland in the opening game dented Palace's promotion hopes, but they beat second-place Portsmouth to go into the final game of the season at Hull just a point outside the top five play-off positions.
They would move up to fifth if they won against the Tigers and rivals Ipswich failed to beat Reading. However, Palace lost 3-0 at Hull and the Tractor Boys claimed a point to take up the final play-off spot leaving Palace agonisingly one place and two points behind.
1986/87 league table progress graph
Player of the Year: Jim Cannon
Young Player of the Year: John Salako
View every Player of the Year winner
Top Scorer: Ian Wright 9 (8 league, 1 cup)
View the top scorers for each season
Average attendance: 7,583
See each season's average attendance
In Depth The 1980s revisited