July 19 2009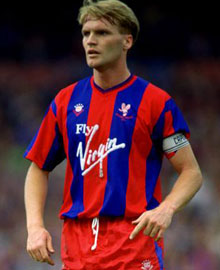 Crystal Palace just missed out on the play-offs for the third season in a row but the fans knew Steve Coppell was on the verge of producing a great side.
In the summer, Alan Irvine transfered to Dundee and Steve Ketteridge signed for Orient. Boss Coppell brought in Geoff Thomas from Crewe for £55,000 and Neil Redfearn joins from Doncaster for £85,000.
August
It wasn't a great start to the new season for Crystal Palace as Steve Coppell's side drew twice - Huddersfield and Hull - and lost to Barnsley in the first month of the season.
September
Palace got back on track by winning five league matches in September - Middlesbrough, Birmingham, West Brom, Leicester and Reading. Although they drew with Sheffield United and lost to Ipswich, the Eagles ended the month second in the table.
Newport County were despatched in the Littlewoods Cup 4-0. Teenager Richard Shaw made his first team break from the junior side.
October

The Eagles eased to the next round of the Littlewoods Cup with a 2-0 second leg win over Newport County and win 6-0 on aggregate. However, Man Utd were 2-1 winners in the next stage.
In the league, Palace lost to bogey side Shrewsbury but bounced back with victory over local rivals Millwall. Sandwiched between defeats to Aston Villa and Bradford was a win over Swindon to finish the month in eighth.
Left-back David Burke signed from Huddersfield and Kevin Taylor was sold to Scunthorpe United.
November
November was a fine month for Coppell's troops who ended up in fifth place. They saw off Plymouth, Bournemouth, Stoke and Leeds with defeat to Blackburn the only blemish. However, midfielder Andy Gray asked to leave and was sold to Aston Villa for £150,000.
December
This was a mixed batch of results for Palace who won three times - Man City, Sheffield United and Ipswich - but lost twice to Hull and Reading to move up a place to fourth.
Midfielder Glenn Pennyfather was signed from Southend for £150,000 and left-back Chris Powell came up from the youth side.
January

Palace were knocked out of the FA Cup by Newcastle at St James' Park after a Paul Gascoigne goal. Back in the league, they registered wins over Barnsley and Huddersfield, drew with Leicester in an eight-goal thriller and lost out to Middlesbrough and Oldham. These run of results left Palace third in the table.
Goalkeeper Perry Suckling joined from Man City for £100,000 which signalled the end of George Wood who left for Cardiff and Paul Brush was sold to Southend.
February
Maximum points over Birmingham was followed up by losses to West Brom and Shrewsbury as Palace ended the month in sixth. Dennis Bailey signed from Farnborough.
March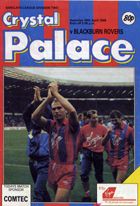 This was an unbeaten month for the Eagles who triumphed over Oldham then drew against Millwall, Bradford and Swindon to remain in the top six. Right-back John Pemberton arrived from Crewe.
April
The Eagles landed at Wembley for the first time after qualifying to play in the Mercentile Credit tournament as part of the Football League's 100th birthday celebrations. Palace had a goalless draw with Sheffield Wednesday and the northern club went through to the next stage after winning the penalty shoot-out.
In the league, Palace needed a strong month to break into the top five play-off positions and achieved three points against Bournemouth, Plymouth and Blackburn, while drawing with Stoke and Villa. They went into May one point behind fifth-placed Blackburn with two games left.
May
The Eagles were defeated away to Leeds which left them two points adrift of the magical fifth slot. In their final match of the season at home to Man City, they needed to win and hope rivals Blackburn didn't. Despite a 2-0 victory over City, Rovers trounced champions Millwall to claim the final play-off spot leaving Palace heartbroken.
1987/88 league table progress graph
Player of the Year: Geoff Thomas
Young Player of the Year: John Salako
View every Player of the Year winner
Top Scorer: 1987/88 Mark Bright 25 (24 league, 1 cup)
View the top scorers for each season
Average attendance: 9,745
See each season's average attendance
In Depth The 1980s revisited
---
Email the editor with your comments to editor@holmesdale.net