July 30 2009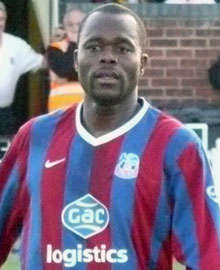 Crystal Palace have completed the signing of Stern John on a 1 year contract.
The former Birmingham City player turned down a new contract at Southampton this week, after being out of contract at the end of last season.
John said: "I'm delighted to have signed for Crystal Palace."
"It's another move for me at a new club. It's a new challenge for me and one that I'm definitely looking forward to," he added.
Des Wroe, Stern's agent told the South London Press that his client liked what Neil Warnock had to say.
"When Stern met Neil he was really impressed - he's the ideal manager for him at this stage of his career.
"Stern brings a whole wealth of experience - he's played in the top flight, at the World Cup and arguably his goals have kept Southampton in the Championship in previous years. Last year he didn't play a lot but he still found the net - his goalscoring record is there for all to see.
"If you supply the ammunition he scores goals. And he'll also be brilliant for the young players Palace have got - they will all be able to relate to Stern because of the way he is.
"If you look through his stats he's not been spoon-fed - he's earned his career. You only earn respect when you've done it.
"He's just been made to feel so wanted at Palace. Everyone has been so welcoming and he got a good feeling straight away."