August 19 2009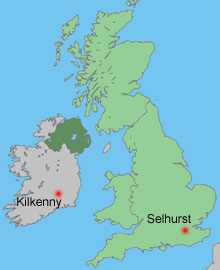 Jamesey has had correspondence from exiled Eagles fans all over the world, from Greece to Goa, and from Vancouver to Vladivostok. But for sheer dedication, Pat Doyle really stands out.
On a Saturday morning, when Palace are at home, Pat Doyle rises at 7am and, five-year Holmesdale season ticket in his pocket, leaves his house an hour later and heads for Selhurst Park.
That is quite early in the morning, you might think, but so what? The "so what?" is the fact that Pat lives in Kilkenny in the Republic of Ireland, and has been following Palace for more years than he or I care to think about.
Pat was born in Croydon and was taken by his Uncle Paddy to his first game at the age of six, became hooked on Palace and always spent his half-a-crown weekly pocket money at Selhurst on a Saturday.
His family moved to Kilkenny in 1967 and Pat carried on supporting from afar although in those days before no-frills cheap flying, Aer Lingus charged a fortune. The cost of a day's excursion to Palace was about £240 so Pat's visits were few and far between.
Nowadays with the benefit of Ryanair, he gets a return ticket for 30 euros, an infinitely more affordable tariff.
It's a two-hour drive to the airport and Pat's flight takes off at 12 midday and lands at 1.15pm. Then it's on to East Croydon, then Selhurst, and he can be in his seat at 2.15pm unless the need for liquid refreshment delays him for a short while.
After the game it's back to Selhurst and thence to the airport and a bite to eat. The flight leaves at 9pm, lands at 10.05, and after a two-hour drive home, Pat gets to bed at 1am. but he empasises that when his head hits the pillow he is a happy man.
There are quite a few other Irish fans out there too, says Pat, and they often meet up on trips and keep in touch by email. The nearest one is David Hynes who lives just down the road and the pair travel together whenever possible.
Another fan is Gabriel Reilly from Dundalk who for many years ran the Irish Crystal Palace Supporters Club which is, alas, no more.
"My mates in Ireland think I'm mad," says Pat, but that doesn't worry him. He tells them that he puts his money where his mouth is and is proud not to be a Chelsea, Liverpool or Man U fan.
Pat informs me that he was at the 1990 FA Cup Final which he says we should have won. He has never forgiven Mark Hughes for scoring in the final. "He broke my heart," says Pat.
Well we have a real opportunity for revenge when Mark Hughes brings his Manchester City side to Selhurst for our Carling Cup duel in a couple of weeks.
Pat can't make evening games but will be watching on Sky and, like all of us red-and-blues, hoping dreams of revenge could become a reality.
---
Email Jamesey with your comments to jevans3704@aol.com
In Depth Jamesey's Veteran View Index