May 11 2001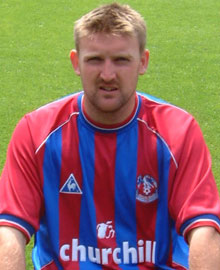 Crystal Palace chairman Simon Jordan has slammed midfielder Jamie Pollock again. Pollock has just returned to the club after spending a few months on loan at Birmingham City.
Jordan has said that he expected Pollock to set a standard for other players to follow, instead of having several public rows with former boss Alan Smith last season.
"We want success at this club and if we want that we need players to set a standard, a professional standard. Jamie did not do that," the chairman said.
"But I don't know if he's finished with the club. I personally don't think he's a good player but I don't pick the team. If the new manager wants to pick Jamie Pollock, I will listen to what he has to say."
The transfer-listed Pollock is preparing for surgery on a hernia which caused The Blues to terminate his loan spell at St Andrews.