October 4 2009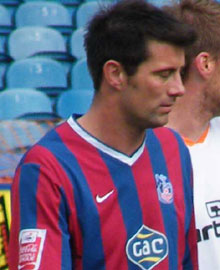 A windswept afternoon at Selhurst saw Palace continue their current excellent run. Jamesey gives the low-down.
Our first half scoring demon was well and truly exorcised when Alan Lee headed home within three minutes to put the Eagles one up against Blackpool FC (Oct 3).
Recent times have been grim on the financial front what with the transfer embargo and news of unpaid ground rent to our mortgage providers, themselves in administration.
But a 4-1 victory against the Seasiders was enough to dispel the gloom and put a smile on the faces of Eagles supporters. And our current run made it 10 points out of 12 in four games. You can't really complain about that, can you?
It was also our first win against the Tangerines for 39 years although, of course, during much of that time we were both in different leagues.
The scoreline was flattering to Palace because Blackpool played some attractive football and, as ever, the maestro from the Pampas, keeper Julian Speroni, saved our bacon a couple of times with near-miracle saves.
Nevertheless, for once, we took our chances and I was delighted to see one of my favourites, Alassane N'Diaye knock in the fourth, ably assisted by the rapidly improving Lee Hills. Alassane was subbed for Alan Lee and to be honest didn't look at ease as a lone striker. But his goal redeemed any criticism, in my view.
So the international break next weekend gives us a couple of weeks to sort out some of our injury-plagued squad and we will hope to sustain our run at Cardiff City's new stadium.
It was a sensitive and welcome decision to hold a minute's silence before the game for the tragically murdered Croydon couple, Barry and Elizabeth Dighton, who it turned out were season ticket holders in the Upper Holmesdale. And well done, Blackpool supporters who observed the silence with good manners and dignity.
Outside the ground, booklets were being distributed offering tremendous-value season ticket bargains for 2010-2011. It's the first time discounts have been offered as early as October although one has to wonder whether hauling in cash ever earlier does much to help Simon Jordan's sale prospects.
After all, it does mean less revenue in the future for a new owner.
---
Email Jamesey with your comments to jevans3704@aol.com
In Depth Jamesey's Veteran View Index