October 12 2009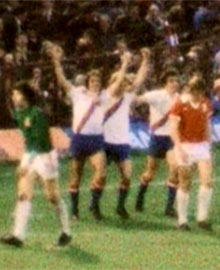 Whenever there is talk about significant late goals in Crystal Palace's history most of us think of Dougie Freedman's strike at Stockport County in 2001, writes John Phelps.
Those of us old enough to remember will also think back to that game in May 1977 when Palace won 4-2 at Wrexham.
However, all the reports I have read in recent years about that game, and its significance, seem to omit some of the finer details which made the result all the more remarkable.
The background to that fixture was that throughout the 1976-77 season Palace were always a few points off the promotion spots. The position remained much the same until the last three or four games of the season.
Three teams were to be promoted and with only three games left Palace were five points behind the top two (Brighton and Mansfield) and four points behind Wrexham, although Wrexham had a match in hand over the other three.
It must be remembered that at that time a win was worth only two points so the position looked almost hopeless and against this background it is all the more remarkable that Palace achieved promotion.
I should like to share with you some of the significant facts often not mentioned:
Of Palace's last three matches, two were against Wrexham, the first at home and the last away. On the face of it, two wins against Wrexham would put Palace level on points, although Wrexham would still have a game in hand. Wrexham also had a better goal difference (30) than Palace's (22).
Palace beat Wrexham at home and then won their next home game (by 4-1 which helped the goal difference to an extent which proved critical), while Wrexham drew that day.
Going into their final match of the season against Wrexham at the Racecourse Ground in midweek, Palace were one point behind Wrexham. Wrexham's goal difference was then 29 and Palace's was 26.
However, Wrexham still had a game in hand. That was to be their last game, at home to Mansfield the following Saturday. At this point both Mansfield and Brighton had secured promotion.
So, as all the reports of the game remind us, Palace had to win at Wrexham. But what is so often not mentioned is that Wrexham were unbeaten at home that season! Not good for Palace, especially as, even if Palace were to be the only team to win at Wrexham that season, Wrexham still had one more home game left to pick up the needed points.
And that is also very much the point. In view of the relative goal differences, a win for Palace by one goal would put Palace a point ahead of Wrexham, but leave Wrexham with a superior goal difference meaning a draw against Mansfield in the final game would be enough for Wrexham.
However, a win for Palace at Wrexham by two goals would leave Palace ahead of Wrexham by one point AND with a superior goal difference, so Wrexham would have to win their last game.
The need to win was recognised by all Palace fans at the time and it was also understood that to win by at least two goals was so much better.
For Palace to take a two-goal lead in the game was astounding, but then to lose that lead seemed almost inevitable, in view of Wrexham's record at home.
With only three minutes remaining the score was still 2-2. When Palace scored to take the lead it was fantastic, but when Palace scored again to make it 4-2 it was so much better.
Wrexham were left having to beat Mansfield in their last match. By then Mansfield were already assured of promotion and could perhaps have been forgiven for not giving it their all. What's more, apart from the defeat by Palace, Wrexham had a very strong home record.
To our great relief, the game remained scoreless until the last few minutes when Mansfield scored to make sure Palace were promoted, but there can be no doubt that if Palace had not got that fourth goal at Wrexham so that a draw would have been enough for Wrexham, it is much more likely that Wrexham would have been able to hold out for a draw.
Rotherham still had a mathematical chance of promotion that day. They needed to win their last match (away at Port Vale) by six clear goals. Unlikely perhaps, but they gave it a good go and ended up winning 4-1 so we couldn't celebrate until that result was known.
With four or five matches to go Wrexham had looked firm favourites to go up but four of their last five games were against the three teams who did go up, and drawing at home to Brighton, losing twice to Palace and then losing to Mansfield put paid to their hopes.