November 4 2009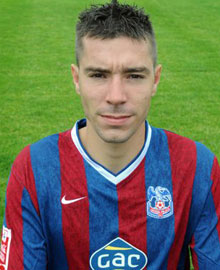 Jamesey contemplates our current freak crop of 1-1 draws and gives thanks to our goal-scoring midfielder.
Ambrosia: Classical myth. The food of the gods, said to bestow immortality. Anything particularly delightful to taste or smell. (Collins Eng Dict)
Four of our last five games, culminating with Queens Park Rangers at Loftus Road (Nov 3), have been 1-1 results. But as three of those were away, one really can't complain.
In the days when you were awarded two points for a win and, of course, one point for a draw, the common philosophy was to play for a draw away.
To my mind, changing the winning tally to three points improved the game considerably.
These days the away sides play far more aggressively and try to grab all the points, thus ending many of those rather tedious games where the visitors played the whole team behind the ball.
Anyhow the man whose goals (nine this season to date) drew three of the the draws, Darren Ambrose, is on a superb run at present. He did, of course, score goals at his former clubs but there was nothing to suggest he would turn it on like he has done for the Eagles.
If Darren can continue his current form he will undoubtedly be our best goal-scoring midfielder since the halcyon days of the old gap-tooth ginger, David Hopkin, whose goals made all the difference in our 96-97 promotion season (especially that one at Wembley against the Blades. Who could ever forget that one?).
So let's hope this Ambrosial spell continues and Darren continues to stick 'em in the net.
I was especially looking forward to our home game against Middlesbrough (Nov 7).
I am not altogether in favour of giving our Old Boys rousing receptions as it often seems to inspire them to play well and even score against us.
But in the case of Gareth Southgate, now ex-Boro manager, I would have made an exception.
Gareth graduated from our youth scheme and while he was at Selhurst played mainly as a midfielder and scored the odd goal. At Aston Villa he was turned into a central defender and fulfilled that role with great skill for club and country for many years.
I had the pleasure of meeting Gareth a couple of times and found him a modest and articulate young man with a sharp brain that belied his somewhat goofy appearance.
Boro, in their wisdom, sacked him when their manager had just taken them to within a point of the Championship league leader. Main reason seemed to be falling attendances. Maybe the chairman hadn't noticed that the UK is still in deep recession and, with a few notable exceptions, attendances are falling everywhere, especially in the less favoured areas of the country,
So no Gareth at the Boro match but lets hope we can improve on a 1-1 draw and mount a serious attack on the top six places. We have the squad and the talent.
---
Email Jamesey with your comments to jevans3704@aol.com
In Depth Jamesey's Veteran View Index