November 9 2009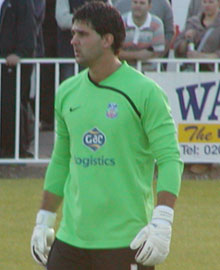 It was superb day to be at Selhurst when Middlesbrough were the visitors, says a delighted Jamesey.
In my last column, I said that I regretted the recent sacking of Gareth Southgate as Boro's manager. But after their two unconvincing games under new gaffer Gordon Strachan I'm not so sure.
When Neil Warnock applauds each individual Palace player off the pitch, you know something special happened, after our 1-0 victory over Middlesbrough (Nov 7).
But although the team were totally beyond criticism for grit, determination and work effort, two men seem to be emerging as a two-pronged phenomenon - Darren Ambrose and Julian Speroni.
At the moment, Darren pokes 'em in and Julian keeps 'em out and long may that state of affairs continue.
Nevertheless, Boro had quite a few chances but squandered most of them by sloppy finishing and the ones that presented any real threat were blocked by our keeper whose Herculean efforts at times seemed to deny gravity and the contruction of the human body.
That and Ambrose's superbly taken second-half goal (his 10th this season) gave us three points and a position five points under the play-off zone, an area which we could seriously move into if we carry on in the same vein on the pitch.
A crowd of 15,321 turned up, including about 1500 Boro supporters, and for once the figure didn't seem overstated. It was a chilly day by south-east standards although I don't suppose the away fans even noticed it.
On my only ever visit to the Riverside stadium almost exactly four years ago for a midweek league cup fixture (which we lost 2-1) I was almost paralysed by the cold and a freezing gale which howled in from the North Sea. But the locals were wandering around in T-shirts. Do they eat a lot of whale meat and seal blubber up there?
Anyhow, you could feel the elation in the air at Selhurst again and the noisy crowd's optimism was almost tangible.
I noted a familiar figure sitting a few rows in front of me and when he walked up the stairway at half time I realised it none other than Clinton Morrison.
He was in deep conversation with a man who I was told is a football agent although I'm not suggesting there was anything to be read into that. After all, Clinton is south London born and bred and there is no reason at all why he shouldn't come and watch a game at the club where he spent his formative and sometime later years.
But apart from anything, with the best will in the world, Clinton represents the past of Crystal Palace Football Club.
The future for now rests with the Ambrose and Speroni Show. Let's hope that they and the rest of the team can build on our current performances.
---
Email Jamesey with your comments to jevans3704@aol.com
In Depth Jamesey's Veteran View Index