May 18 2001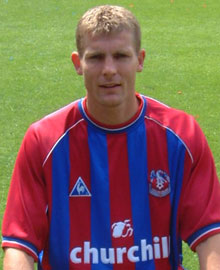 Eagles defender Dean Austin is set to have talks with chairman Simon Jordan about extending his contract. The skipper currently has another 12 months left on his contract. Jamie Smith is close to agreeing a new contract at Selhurst Park.
The Eagles are offering Austin another 12 months on top of the current 12 months left on his contract.
Austin, who is to meet up with Jordan in Spain, is said to be keen on extending his stay with the club.
Meanwhile, Jamie Smith looks set to reject an offer from promotion-challengers Bolton Wanderers and sign a a new three year contract with The Eagles.
The defender has been having talks with Simon Jordan and Steve Kember and he says that he now feels happier now he has spoken with Jordan, who outlined his plans for the club over the next few months.
Smith is expected to put pen to paper next week if he decides to stay at Selhurst Park.