November 30 2009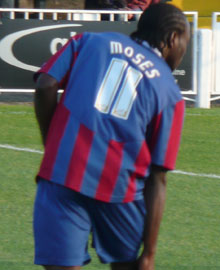 Crystal Palace were comfortable winners after a classy 3-0 victory at home to Watford, writes Jamesey.
Some days everything goes right and sometimes it all goes wrong. Fortunately in our match with Watford (Nov 28), we couldn't go wrong while Watford made a mess of almost everything they attempted.
It is perhaps unjust to single out any particular player in red and blue because every performance was absolutely first-class. However, Victor Moses gave the best display I have ever seen from him.
Not only did he score the first ultra-early goal which must have dented the Hornets' morale but went on to provide a perfect pass for Darren Ambrose to bang in the third. Alan Lee, of course, scored the second hard on the heels of Victor in the first half.
Victor still has a tendency to try to beat four defenders when it would be better to pass after getting past two of them, but that cross to Ambrose for the goal hopefully demonstrated a new maturity and team awareness. A few months ago he would undoubtedly have tried to dribble onwards and lost the ball.
I only hope that when the inevitable offers arrive come January, Victor will go to a Premier League club where he can play first-team football.
The game needs talent like his to be seen and it would be a tragedy to see him being out on loan to a lower division club like Wayne Routledge, John Bostock, Tom Soares and Ben Watson. And please Simon Jordan, insist on getting a price worthy of him when the time comes.
To compound Watford's misery, they even missed a penalty which theoretically could have put them back into the game. As ever with penalties on the edge of the box, some say it was in and some it was out. It wasn't even a hard one for Julian Speroni to save. He can do those in his sleep.
Saturday's result leaves us at 11th in the table and only a couple of points off the play-offs zone. And we are at home again this coming weekend to Doncaster Rovers who have yet to win away - as a long-suffering Palace supporter that fact gives me anxiety rather than confidence.
And when we run out against Donny I shall be on a Brussels-London Eurostar train, having not bothered to check on our home games, double damn and blast it.
Two much liked and respected ex-servants of CPFC, from different eras, were to be seen near me in the Main Stand.
In the row in front was Tony Finnigan, now a football agent, but in the 1980s one of the new breed of emerging black players who were to enrich London football. Finn never matched the fame and success of his team-mates Ian Wright and Andy Gray but his contribution to our rise up to the top tier in 1989 was no less considerable.
Sitting a few rows in front of him, with a glamorous blonde lady, was our old friend Aki Riihilahti, a more recent and much-loved player. It was shock to realise that Aki is now 33 although he still looks about 21 with that thatch of fair hair.
Thanks Finn and Aki for the pleasure you gave to this supporter at different stages in our history.
---
Email Jamesey with your comments to jevans3704@aol.com
In Depth Jamesey's Veteran View Index