December 18 2009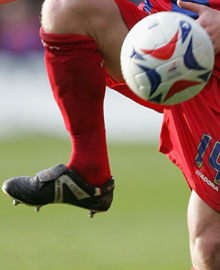 Think about this: When there is a cup draw to be made, which teams go through your mind that you want to pull out of the hat? writes Simon Pophale.
Brighton (if they have gotten that far), Liverpool (happy memories), Newcastle (nice weekend away), Millwall, Charlton (easy to get to, local bragging rights?) I reckon that Barnsley do not figure much in your thoughts, but it is not likely to as we have never played them in a cup competition.
Barnsley coming down to Selhurst is a match that yields us three points in the second tier, but looking anywhere else in the league pyramid, our home record is, quite frankly, abysmal.
So, let us get those unpleasant matches over with. It has been nearly 80 years since we first played the team of Michael Parkinson and Harold "Dickie" Bird.
The most high profile one came back in the ill-fated 1997/98 Premiership season where despite our unbeaten away start to the season we were in buoyant mood when it came to have our opening home game against Barnsley.
It was the time of Lombardo and the excitement that his acquisition had proved carried us on the wave of expectation. And after despatching Everton and Leeds away, we could make it three wins on the spin against Barnsley.
Sadly, it was not to be as Neil "hair gel" Redfearn (as was his nickname when he plied his trade with us from 1987-89) scored from the edge of the area to condemn us to one of many home defeats that season.
The other three matches, outside of the second tier, at Selhurst came in the Third Division between 1961/62 and 1963/64. Three matches, three defeats and the least said the better. Incidentally, all the matches ended in 1-2 defeats.
It should be no surprise as Barnsley have spent 69 seasons in the Second Division (or however it is so named), which is the current record. Had they not been the team that suffered from when Arsenal managed to keep their place in the top division 90 years ago at the Tykes expense, it could have all been so different.
We first met Barnsley shortly after this debacle of bribery and corruption when we were promoted into the Second Division back in the 1920/21 season and it was a case of played four, won two and lost two before we went into Division Three (South).
The 1960s, mentioned above, was a torrid time for games with Barnsley, so we move on to the 1980s and the sequence of matches which brings us up to the present day. The beginning of this run does not make pleasant reading.
From 1981/82 until 1986/87, there was only 1 win at home to Barnsley (1985/86) and we managed to beat them again in 1987/88 by the odd goal in five. Our promotion season saw Barnsley share the points in a 1-1 draw.
With our relegation from the Premiership, we faced Barnsley at home in April 1994 knowing that a victory would bring us a step closer to the promotion we were cantering towards and Paul Stewart, on-loan from Liverpool, bagged the winner in glorious spring sunshine to strengthen our grip on our title claims.
We met Barnsley again, immediately after our relegation in the 1995/96 season, this time on opening day and a humdinger of a match saw us edge it 4-3 which included goals from Iain Dowie and David Hopkin. A 1-0 victory in the 1998/99 season made up for the Premiership defeat the season before. The first encounter of the new millennium saw us lose 0-2.
The Noughties has brought us the considerable improvement in the home record since.In September 2000 we beat them 1-0 courtesy of Clinton Morrison, while the next season, we pulled of the same trick again.
This was the last we would see of the Yorkshiremen for a while, as they fell into League One while we moved, onwards and upwards, to the Premiership and back again, before Barnsley came to Selhurst in the 2006/07 season.
This time, we put them to the sword with goals from Morrison and James Scowcroft as we took three points in a 2-0 win. Once again, we managed to follow this up in 2007/08 with the same scoreline, Scowcroft was at it again along with Tom Soares, as it was a long trip north for the Tykes.
Last season, we emerged 3-0 victors in front of the Sky cameras and two goals from Ben Watson and one from Shefki Kuqi made it three wins in a row. Let us hope for a repeat of that score line on Saturday.