December 31 2009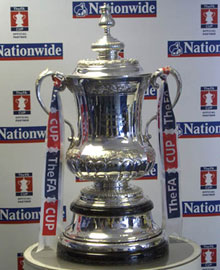 There has only been one occasion when Crystal Palace have not been involved in the FA Cup third round in the last 45 years, writes Simon Pophale.
We can look back on our FA Cup campaigns since the fateful 1974-75 season with some pride. After all, we have been to four quarter-finals, three semi-finals and a final. Yet, we have not progressed to the quarter-Finals for the last 15 seasons. We are due a run in this cup – we need the money!
Cup ties with Sheffield Wednesday
There has been only one instance of these sides meeting in the cup and it was back in the 1972/73 season. It was a case of playing at home, away and the added spice of a 2nd replay on a neutral ground. After two 1-1 draws at Hillsborough and Selhurst, we lost the 2nd replay 3-2. This was a 4th round match after we had defeated Southampton at home 2-0 in round three.
No Third Round – but a Fourth round...?
The last time we failed to get to the third round was back in the 1974/75 season as we lost at Home Park, Plymouth by 2-1 in round two. Yet, Selhurst Park was to see a fourth round replay staged as Wimbledon, then of the Southern League, went on a remarkable FA Cup run which saw them become the very first Non-League team to beat a First Division team as they despatched Burnley at Turf Moor 1-0 and held Leeds United, to a draw.
Over 40,000 saw Leeds progress so at least Selhurst saw some FA Cup action that season as both our ties were away at Tooting and Mitcham in round one, then Plymouth.
The Second Round Replay – now a thing of the past!
Given this is the 20th anniversary of the season when we began our run to the final of the most famous cup competition in the world, it would be remiss of me not to mention our narrow 2-1 home win over Portsmouth which set us on our way.
However, I am going to focus on the following season when we were on TV twice in a week and it lead to our last 2nd round replay, before they were abolished at the back end of the 1990's.
Following our live victory over Liverpool on ITV (complete with Gary Lineker summarising), the BBC had us live for our home 3rd round tie against Nottingham Forest. The match, which ended 0-0, was an absolute stinker and was the last time, I believe, we have been live on BBC television (the BBC showed the Everton vs Tottenham semi-final live in 1995).
The replay at the City Ground was memorable for John Salako's 120th minute 40 yard equaliser, after the scores were tied at 1-1 at 90 minutes, to make it 2-2 and Brian Cloughs' outburst that "if football was meant to be played in the clouds, God would have put grass up there". Sadly, this was an anti-climax for us as we lost the coin toss so the 2nd replay was staged at the City Ground and we lost that 3-0, with Garry Parker getting two of the goals.
A Decade of disappointment
As we draw to the end of the decade, a summary of the last 10 3rd round ties read like an unimpressive set of statistics. In 1999/2000 we suffered the most embarrassing cup defeat of recent times when we got beaten 2-0 at Cambridge United, with Hayden Mullins getting sent off. It tipped down with rain and took ages to get back to London.
2000/01 and 2001/02 saw us drawn away in the North East, to Sunderland and Newcastle respectively and on both occasions we suffered in the cold, failing to score and being knocked out twice in the process.
2002/03 saw us edge past Blackpool with two goals from Tommy Black which set up a fourth round trip to Liverpool and the following season we got beaten 0-3 at Tottenham with Fredi Kanoute running riot.
We were sent to Sunderland again in 2003/04 and again we came away with a defeat and although we managed to beat Northampton Town and Swindon Town in subsequent seasons, 2007/08 saw us lose at Watford with goals by Danny Shittu and last season we drew 0-0 at Leicester before winning the replay at Selhurst 2-1, with goals from Paul Ifill and Sean Scannell.
Lets hope that 2010 brings us some FA Cup joy – Happy New Year!
---
Email Simon with your comments to simonpophale@btinternet.com