January 9 2010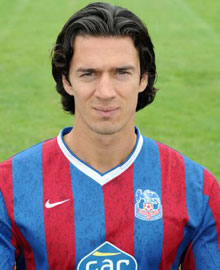 Defender Jose Fonte has left cash-strapped Crystal Palace to join Southampton for an undisclosed fee.
The Portugese player has been sold in order to bring in much-needed funds for chairman Simon Jordan with reports the club is on the verge of administration.
Fonte, 26, finally agreed terms after accepting a move down a division to League One with the transfer believed to be in the region of £1.2m.
The departure of the popular Fonte comes as blow to Eagles fans as the centre back has impressed since arriving from Benfica in July 2007. He made 92 appearances in the red and blue, scoring six goals.
"I'm really happy to be here," said Fonte. "Don't get me wrong I was happy at Crystal Palace and I have only good memories of my time there, but I've made a decision that I'm very happy with.
"This club [Southampton] has the stability which Crystal Palace does not have at the moment, and whilst we had a lot of youngsters there, we still had a good team that was doing well.
"But I made this decision because firstly the situation there is delicate and I have to think about my future."