January 12 2010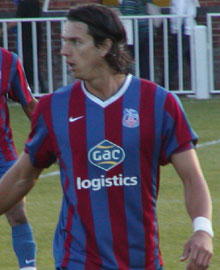 Jose Fonte admits he was forced to leave Crystal Palace due to the club's dire financial straits.
With Palace reportedly on the verge of administration, Fonte says the £1.2m transfer fee for his move to Southampton will help boost the Selhurst Park coffers.
Defender Fonte and his former Palace team-mates have been paid late a number of times this season by the cash-strapped Eagles.
Although the former Benfica man is happy with his move to the south coast, Fonte insists he would have stayed had Palace not been forced to sell their best players.
"If Palace didn't have any financial problems I don't think I would have left," he said. "But Palace needed the money and it was good for me as well so I had to make this decision.
"With the situation there getting even worse I had to think about my future.
"Financially the club is struggling and getting paid late is not good and it is always on your mind, you are wondering if the club is going into administration or not.
"The chairman has put in a lot of money into the club all these years and he is doing what he can but at the end of the day it's my future and I think this was the best for me.
"The club have some money now though so hopefully the situation won't happen again for my team mates there."