January 14 2010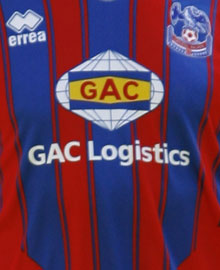 A trip for Crystal Palace to Plymouth usually, despite recent success, ends in defeat – especially in winter, writes Simon Pophale.
We have a wretched history at Plymouth, going back to the Southern League and the very early days of both clubs' existence, as not only is it a long way to travel (usually for nothing) but the League seems to take some perverse pleasure in either putting the game:
a) in winter, b) in midweek or c) both.
The Southern League
Both clubs were accepted into this league within a few years of each other; Plymouth in 1903/04 while we entered in 1905/06. After our promotion to Division One, we first travelled to Plymouth in April of 1907 and came away with a 0-0 draw.
The following season it was almost a year to the day when we headed west and again, managed a draw (1-1). Another scoreless draw kept up our unbeaten record in the 1908/09 season.
It all started to go wrong when the unbeaten record at Home Park fell in 1909/10 and we lost 2-0, before the next season saw Plymouth dish out a serious hiding with a 5-1 defeat. 1911/12 saw another defeat, this time 3-1 and we managed two more scoreless draws in the following two seasons, before losing 4-1 in the 1914/15 season.
Following the resumption of the league after World War One, we met Plymouth for the last time and, predictably, a 0-0 draw was the result. Whilst in the Southern League Plymouth remained unbeaten at Home Park by a Palace side, both sides were part of the newly formed Division Three.
Third Tier Days
Our triumphant Championship winning season saw us break our Home Park duck with a 1-0 win in 1920, which meant that we would have a break of five seasons before we met again.
However, we found ourselves up against a Plymouth outfit that was full of goals and over the next five seasons we suffered some horrendous defeats: 6-2 in 1925/26, 7-1 in 1926/27, 5-1 in 1927/28 and 6-1 in 1929/30.
Players like Sammy Black and Jack Leslie, as well as Jack Cock and Tommy Grozier did the damage; the first two players appear in Argyle's record goalscorer list, Black in first place.
Plymouth were promoted in 1930 to the Second Division where they remained for 20 years. The poor record at Home Park continued upon our return in 1950/51 where we got a 4-0 hiding, going one worse in 1951/52 as Plymouth returned to Division Two as Champions.
Plymouth were back in Division Three (South) in 1956 but there were only two more fixtures at Home Park as the end of regionalisation in 1958/59 saw us end up in Division Four and Plymouth in the new Division Three. We did manage another victory in the 1956/57 season however (1-0).
The only other match to be played at Plymouth in Division Three was in 1974/75 and we won yet again at Argyle 1-0. All the more surprising as Plymouth were promoted as Champions that season.
Second Tier Stories
Before the new millennium, there were few matches against Plymouth between 1988/89 and 1964/65. Of these 7 matches, we won 3, drew 2 and lost 2. Until last season, we had to look back to this match in 1988/89 as our last victory, as the next time the clubs met; it was in the Championship in 2005/06 following our relegation from the Premiership.
So begins the tale of long wintery trips which yielded nothing, began on 17th December 2005 when a first minute goal from Nick Chadwick and a last minute goal from Tony Capaldi saw us on the wrong end of a 2-0 score line.
In 2006/07 a virtuoso Scott Sinclair strike saw us go home empty handed again, this time at least the game was in March!
Another trip in 2007 to Plymouth took place on Tuesday 17th October as with there being no trains to get back to London on, those hardly souls that made the trip were left unrewarded as Peter Halmosi saw us lose 1-0.
Last Time Out
When the fixture computer once again sent us down to Plymouth on a midweek night (and in February, following a postponement), many might have thought another defeat was on the cards but 20 years after our last win, the current crop of players engineered a 3-0 lead with goals from Neil Danns, Alan Lee and John Oster. Gary Sawyer got Plymouth's sole reply.
Can we do it again? With the furore surrounding certain players leaving at the moment, the first eleven may have a different look about it, but the spirit is strong and with Plymouth in the relegation zone, we have every chance.
And not a Ditmar Van Nostrilboy in sight.
---
Email Simon with your comments to simonpophale@btinternet.com