January 15 2010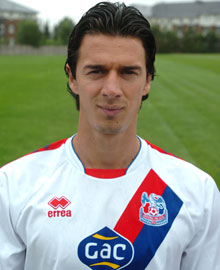 Three out last week, two more this but the second week of the window saw us being overshadowed by others in crisis, writes Simon Pophale.
Each week, I will be rounding up the stories of the week, up to midnight on Thursdays and to throw in all the speculation that has been rife. The best place to start is at home...
Two More Fly The Nest
Ominous rumblings began last week when it was rumoured on January 8th that Jose Fonte was going to Southampton and while there was a will he/won't he moment, Jose duly signed for the South Coast club on Saturday, in a deal worth £1.2m. No complaints in our current financial predicament with the amount, but we will miss the Portugeezer.
Ryan Smith made it two in a week when he was not offered a contract extension, due to the transfer embargo. We did get both Keiron Cadogan and Kieran Djilali back from loans in League Two, so it was not all one way traffic.
The rumour mill was working overtime once again as the "VicMo for sale" bandwagon gathered apace. Friday saw Neil Warnock warning of Moses exit on the BBC, then news emerged that Manchester City were in talks with Simon Jordan over a possible transfer.
Meanwhile fellow promotion candidates Nottingham Forest offering £3m on the 11th put paid to West Brom's derisory bid, although rumours also gathered that his final destination this season may be West Brom, if Manchester City sign him as they may loan him straight out. Let's hope not.
Warnock was on TV, trying to cope with the club not paying the players and management staff. This was solved this week, but the rumours did not stop there.
Another rumour which permeated the message boards was that of Neil Danns going to Southampton. As yet, no deal has gone through but it may be a question of watch this space (especially with what is coming next).
When Harry and Milan met the taxman
The main theme of the second week of the window is tax. Cardiff, Portsmouth and ourselves are in Her Maj's bean-counters bad books and it all came to a head on Thursday as not only have Portsmouth had their TV money taken from them to pay off the clubs owed outstanding monies, but former owner Milan Mandaric and manager Harry Redknapp also charged with tax evasion.
It somewhat takes away from our scenario, as we are due to go to the courts on the 27th. Tax certainly is, unlike the advert says, taxing.
"Jes, Liverpool all maxed out"
Going from one end of the Premier League to the other (on current form, to the upper middle in fact) where Liverpool in fact are in somewhat of a crisis – Andrei Voronin gone and Dossena shipped off to Napoli, getting beaten by Reading represented a new nadir for Liverpool.
More evidence of their not so fat wallets saw Maxi Rodriguez arrived on a free. No bids for Victor then Rafa? Doubtful, as Ronnie Whelan was calling for his dismissal on the BBC, a day after cup defeat. With Torres and Gerrard injured, injury followed insult.
Brian Laws was Burnley's choice to replace Owen "I turned down Celtic you know" Coyle, who subsequently turned up at Bolton. Alan Irvine went to Sheffield Wednesday and Reading left Brian McDermott in charge; who subsequently pushed his claim for the full time job with that win at Anfield.
What do you do....?
When you need new players? In Gordon Strachan's case it means going back to Celtic to take three players off their hands: Chris Killen, Barry Robson and Willo Flood. They wanted a fourth, Gary Caldwell but he opted to go Wigan.
When he was not busy getting them in, he was getting them out – Didier Digard being sorted out a Nice loan for 6 months and Mohammed Shawky going on a free to Turkey (rather apt given his performances...).
West Brom shedded a couple of squad players in David Worrall and Joss Labadie while Andy Griffin joined Reading on loan from Stoke. Barnsley bagged Nathan Doyle from Hull, while Swansea must have taken a real dislike to Marcus Painter, sending him to Brighton.
Carl Baker joined Coventry on loan from Stockport and Jack Colback got his loan extended at Ipswich from Sunderland. Peterborough kept their long-term relationship with Tottenham going when they got Jake Livermore on loan last Friday.
Old Boys news
Nothing to do with us this week, but Patrick Vieira made his anticipated switch last Friday to Manchester City, while Sol Campbell was surprisingly back at Arsenal playing a reserve match. Money for old rope...?
With the Moses-Ambrose-Speroni triangle still intact, fingers crossed that Victor will still be there for the Plymouth game.