January 21 2010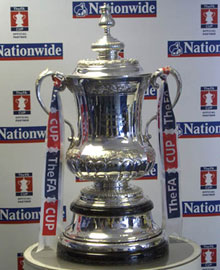 The FA Cup 4th Round has brought many big games, but it has also brought Crystal Palace and Wolves together on a few occasions, writes Simon Pophale.
In only our second season in existence, we managed to get to the 4th round, but back in 1906/07 it was a quarter final. After shocking Newcastle in round one, Fulham then Brentford were despatched before we drew Everton at home for our first ever quarter final.
Despite a battling 1-1 draw at Selhurst, a much more competition savvy Everton side outclassed us 4-0. Reaching this far in the tournament was a major achievement for a club so young.
There may be trouble ahead.... or just around the corner....
The next four ties in the 4th round either saw us crash and burn, or a victory defer the thumping for the following round. The victories were against fellow London rivals Chelsea in 1925/26 (2-1) and Millwall (5-3, following a 0-0 draw away) in 1928/29.
The following round saw us heavily beaten while the defeats in round four also saw us ship large amounts of goals as we lost 6-0 at home to Everton in 1930/31, while three years later Arsenal inflicted a 7-0 defeat upon us at Highbury.
Concentrating on the league
That defeat against Arsenal saw a 31-year gap before we would grace this stage of the competition again. It was a much more upwardly mobile team that faced Southampton in the 1964/65 season and a 2-1 win saw us progress.
We would be a First Division team before we had another 4th round tie, this time it was a 1-0 win over Tottenham, in a replay at Selhurst. As the Sheffield Wednesday 4th round match was mentioned previously, I will fast forward on to one of our biggest scalps.
Down the in the depths, something stirs...
There were some strange goings on down in the Third Division back in 1975-76. We were top of Division Three, Don Revie was making a right royal mess of the England national team and his former charges, Leeds United, were paired with ourselves.
Leeds, still a force in Division One finishing 9th in the previous campaign, were expected to steamroller us but it was the towering figure of Dave Swindlehurst that settled the tie at Elland Road in our favour.
Teams of The Eighties... in the FA Cup at least
The media-styled "Team Of The Eighties" had a poor FA Cup record, but the remnants of that team did bring some FA Cup cheer as in 1981/82, 1982/83 and 1983/84 we reached the 4th round (or better) and allowed us to enjoy the romance of the cup for a little longer than the first week of January. Tottenham thumped us 4-0 in the 1986/87 season and since this time, we have only won four ties in round four.
Can we play you every week?
While the victories against Huddersfield Town in 1989/90 and Nottingham Forest in 1994/95 saw us go nearly all the way to the big prize, while beating Leicester in 1997/98 may have fallen under the radar - notice how all of these were top flight seasons.
Our prize for beating Blackpool in 2002/03 was a match against Liverpool and after a 0-0 draw at Selhurst - which we could have won had Poppa's header gone in, late on - it was a replay at Anfield which saw us pull off a remarkable victory.
The Trevor Francis era had few highlights, but seeing Julian Gray torment Gerard Houlliers' mob, by scoring the first and causing Stephane Henchoz into an own goal, brought smiles amongst the mediocrity of Division One, especially as it was with 10 men as Dougie Freedman was red-carded.
Last time out
The last four seasons have brought us pain in the form of Preston and Watford. To be 4-1 down with 20 minutes left was appalling and although we rallied late with goals from Neil Danns and Paul Ifill, another disappointing FA Cup campaign drew to a close.
Dances with Wolves
History bestows us with ties dating back to the 1908/09 season when we beat Wolves 4-2 in a replay in round one. 70 years later Wolves beat us 1-0 at Selhurst and did so again at Molineux in 1993/94 season. While both those seasons brought joy in terms of promotion, the most recent meeting in 1994/95 was the most eventful.
After a 1-1 draw at Selhurst, we went up to the Black Country with no league form, but on fire in the cup and two Chris Armstrong strikes plus a long range belter from Darren Pitcher saw us go into the Semi-Finals. A repeat of this score line is unlikely but with Wolves struggling in the Premiership.... anything is possible!
---
Email Simon with your comments to simonpophale@btinternet.com