January 29 2010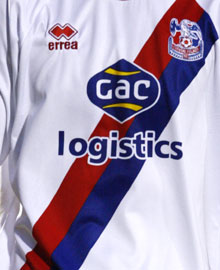 It is a case of long time not seen when Peterborough come to town on Saturday, writes Simon Pophale.
Here is a question for you all to ponder? How old were you in 1994? Maybe you hadn't even been born yet? Maybe you were still at school? Whatever your memories (if any) are of 1994 – there are two things to remember which should bring some warmth with all our current trials and tribulations.
First, this was the season 1993/94, that we won the Championship. The same trophy picked up by Liverpool, Manchester United, Nottingham Forest and others – the Championship trophy that all supporters wanted to have sitting in front of their team in the Panini stickers of the 1980's and early 1990's, we picked it up too on a balmy day in May.
The fact it meant we were not champions of the land, but of the second tier, was irrelevant. Our name is on that trophy and it will not be removed.
This was also the day of "The Last Stand" – the last day of the Holmesdale terrace and while we lost to Watford, it marked another step in Ron Noades' development on Selhurst Park; a time when we had the ground and club together (in a more solid kind of way than post 1997). Such stability would be welcome right now.
This season, marked the last time Peterborough came to Selhurst Park (almost to the day), so it with a rose-tinted look into the past, that I begin today. More on that match later.
Basement beginnings
Peterborough United are one of the few clubs that we have played in the old Fourth Division (League Two in new money) as we were founder members of this new division, following the de-regionalisation of the lower divisions at the end of the 1958/59 season. Have a look back and see how many teams have gone to the wall or disappeared from the league since then.
Peterborough were the fortunate recipients of this situation, as after winning the Midland League five years in a row, applied for election to Division Four and replaced Gateshead.
The Posh, vindicated the decision to be elected by promptly winning the Fourth Division in 1960/61 and they won 2-0 at Selhurst Park in early September. A pivotal result come the seasons end as they pipped us to the title by two points.
The Third Way
This is the division that we have played Peterborough the most in, as we faced them in six seasons worth of matches. The games were evenly spread over the 1960s and 1970s.
Upon both teams entering the Third Division in 1961/62, we earned our first win over Peterborough by a resounding 5-2 score line. Peterborough notched their second win the following season, with another 2-0 win and in the 1963/64 season, we won 1-0 in January 1964 which contributed to our promotion, along with Coventry City, to the Second Division. Peterborough sadly were relegated in 1968 back to Division Four, due to financial irregularities.
Roles were reversed as the next time the clubs met, in the 1974/75 season, Peterborough we back in Division Three, this time as Champions of Division Four, while we were in disarray, following our second straight relegation.
However, these three seasons – 1974/75 to 1976/77 saw nothing but draws against Peterborough: 0-0 in 1976/77 with the other two finished 1-1. We finished the season with promotion, meaning that it would be 17 years until we played Peterborough again in the league.
Last Time Out
Nearly 17 years to the day we played Peterborough on a cold wintry night on February with the backdrop of fog descending over Selhurst. Seeing as we were flying at the top of the table, a visit of relegation threatened Peterborough should not have derailed any of our aspirations.
Maybe the brilliant lime green shirts worn by the Posh and Ken Charlery in particular, but not even his two goals could stop Posh crashing to a 3-2 defeat and our unrelenting charge towards the Premiership continued. Peterborough were relegated in last place, in what was their difficult second season at this level.
Now we are hovering just about the relegation zone, this match now takes on a more urgent significance, as even though a defeat won't put us in the relegation zone, it would cap a week that we would probably all want to forget.