January 29 2010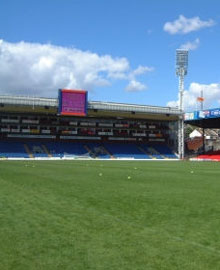 This week saw the transfer window take on the sinister turn we all hoped that would not happen again - administration, writes Simon Pophale.
Tuesday 5pm, bleak Tuesday as while the players are in the air, the club lurches into administration and one of the first phone calls that took place is one telling Neil Warnock that Victor Moses cannot play. He didn't and we lost 2-0 at St James' Park.
Wednesday, Warnock reveals how gutted he is as he was looking forward to managing in the Premier League again but while the administrators have given assurances that the management team will not be cut... the ominous rumblings now begin in earnest about not when Victor is going.
We have had a couple of concrete bids (and about 20 of pure newspaper fantasy) but so far, it is only Championship clubs who are interested and with the deadline looming ever closer, the fire sale could still happen. Add to that a 10 point deduction and it has been a hellish 48 hours.
The final instalment of "Through the Transfer Window" will probably have a greater tale to tell on our sorry state.
Before Tuesday, it was all going fairly quietly. Sunday brought the inevitable "Moses quote" as the Sunday Telegraph reported that "Arsenal head the queue for Moses". Bet that queue will be longer now than it was then.
Now, with headlines flying around the next few days will tell us more about the desperate situation we are in. How many will go? Who will be left? No-one, is safe from the administrators' gavel.
Old boys news
In the week that we go belly-skywards, a lot of former players were on the move, or in the press. Wayne Routledge, being tailed by Middlesbrough, eventually moved to Newcastle for a rumoured £1.75m, although the fee was undisclosed. Leon Cort, moved from Stoke to Burnley for £1.5m, Tom Soares extended his loan from the Potters to Sheffield Wednesday until the end of the season and Shefki Kuqi is back, after moving from TuS Koblenz on a free to Swansea City. What kind of a reception will he get at Selhurst?
Finally, Daddy Bostock is at it again today in the Daily Mirror (28/01/10) as he criticised Harry Redknapp on a radio show, landing John in hot water with Spurs. Given that John has been out on loan at Brentford, maybe now the Bostock family might realise that leaving Palace, was a big mistake.
Around our league
With Palace dropping faster than Tiger Woods' flies in the last 48 hours, it has been a busy time in the Championship as teams are swapping players or moving players on in a bid to freshen up their second half of the season.
Stand out transfers saw Preston taking Danny Welbeck on loan (so, the Fergies keeping it in the family...!), while Nolberto Solano joined Leicester on a free as Max Gradel left the Walkers to join Leeds. QPR re-signed West Ham's forgotten man Nigel Quashie, Reading get Zurab Khizanishvilli on loan from Blackburn, while Newcastle followed up the Routledge transfer by getting in Mike Williamson from Portsmouth.
Premier League watch
Robinho (I love Citeh me) is back in Brazil with Santos (maybe given his away performances he should have joined San couldn't-give-a tos) as Mancini starts to wield his presence at Eastlands. Blackburn bag Basturk on loan from Stuttgart, while Daniel De Ridder left Wigan for Hapoel Tel Aviv.
While his former club Birmingham, paid £3m for a Gardner from Aston Villa. Spurs are also getting new players in (despite Harry saying "I am not signing anyone"), jumping West Ham for Eidur Gudjohnsen. Nice to see that Spurs are still finding new ways to lose friends and alienate people.
Other than the movement of squad players tumbling down the pyramid on loan, this week will be memorable for all of us Palace fans, for being the week the memories of 10 years ago coming back to haunt us. A relegation fight, a fight to survive and a team about to be decimated but the saving grace being an inspirational leader.... can we pull the same trick twice?
On Tuesday, we might have a better idea of how possible this might be.