February 1 2010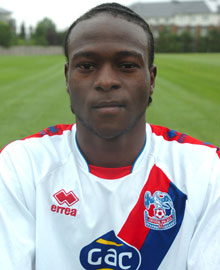 The sale of Victor Moses has brought a premature end to the Palace career of one of the most naturally gifted players the club has produced, writes Simon Pophale.
There cannot be a Palace fan alive today who is not saddened by the departure of our greatest talent.
I do not use the word "greatest" lightly, but in terms of what he could do on the pitch added to the potential he possesses, Wigan have got themselves an absolute bargain no matter what they paid.
Can we be disappointed that he has gone to Wigan? On the one hand, yes. This has made a mockery of the Barcelona/Real Madrid links but you can see now the changing face of football finances.
Arsenal may have splashed out on Theo Walcott and Aaron Ramsey in the past, but they and other "top" clubs decided not to move for Victor was a surprise.
A wait and see approach, if he produces what we all know he is capable of, then I am sure that the next time he moves, it will be for more, a lot more. On the other hand, he is in the Premier League and he is going to shine brightly, so no arguments there.
We had 69 games of watching Victor and although he was with the club for six years, there is no doubt amongst many of the HOL membership that he would always make it.
There are posters still on here (you know who you are) who were touting this 13-year-old Whitgift wonderkid as the next big thing. They were right.
Victor brought things to the team that we had not seen in a very long time at Selhurst Park. His ability to make the ball appear glued to his feet at times, to be able to thread it through the gaps between two closing defenders and still remain in full flight, was a joy to watch.
He has all the attributes to make it not just big, but huge. Quick, can play with both feet and add the low centre of gravity in as well, which makes it hugely difficult to knock him off the ball, are qualities that some of the worlds best ever players have had. Maradona, Messi, Moses? He could be added to that list one day, if the potential is realised.
Purists may say that what is the point of having all of these skills when the work rate is not there, or there is no end product? Victor was fortunate to break into the team under Neil Warnock and there would have been very few managers who could have coaxed the best out of him.
Neil stated openly time and again throughout December how "unplayable" Victor was. Neil got him working harder, tackling back and doing the dirty aspects of the game, which led to his best spell in a Palace shirt and has ultimately led to his transfer.
Eleven goals, it feels woefully short of what we would have liked him to have scored in our colours but certainly if I had to pick out some "Moses Magic Moments" two games spring to mind.
The first was the final match of the season against Burnley which we had to win to secure a play-off spot. Victor was outstanding on the day, terrorising a team that is now in the Premier League and got promoted the following year.
Between him and Scott Sinclair, we tore Burnley to shreds so quickly it was almost hard to believe that if consistency could be added, we could not only be in the Premier League with this boy, but probably stay there.
The second match, by which time consistency was most certainly added, was against Reading this season. Victor not only scored two absolute belters but was the heartbeat of the side. Every single time he got the ball, you knew something was going to happen.
There was no greater sight than seeing Victor slalom his way past a couple of defenders, to put in a telling cross or to smash home one from 25 yards, or even to fire an overhead kick into the net. We have missed the buzz that surrounds him in the last two matches; we will now only see these things on Match of the Day.
While I would have loved to have seen the headline "Moses leads Palace to the Promised Land," the fact is he may well have done. If his transfer helps us stay solvent, then his departure will have not been in vain.
But it is a sad day for Palace fans everywhere as we will all no doubt be lamenting what might have been, if we had not entered administration. Good Luck Victor, thanks for all the memories.
---
Email Simon with your comments to simonpophale@btinternet.com