May 29 2001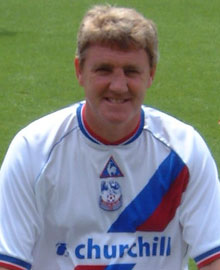 Steve Bruce is hottly tipped to become the new manager of Crystal Palace. Bruce left Wigan today, after less than two months in charge.
And, according to Wigan chairman David Whelan, Bruce is moving to a London-based First Division club, which is believed to be Palace.
Whelan was about to offer Bruce a lucrative contract until he told the chairman that he received "an offer he could not refuse".
Bruce had guided Wigan to the play-off semi-finals in his short spell with the club and broke the news to a disappointed Whelan on Tuesday.
Whelan said: "He told me that he had thought about the move for over a week, and it was an offer he could not refuse.
"We didn't even have the chance to offer him a package with Wigan Athletic. I was going to offer him the same deal I offered Bruce Rioch, which was a very good deal, but I think he's made his mind up to go down to London.
"Steve says it's a First Division club and the only two I can think of are QPR and Crystal Palace, but I don't really know.
"I was very surprised at Steve's decision and I was surprised that he didn't listen to our offer because I had had some very positive meetings with him before he went on holiday.
"I knew that other clubs would approach him because the market's like that. I'm surprised because he's had a brilliant relationship with everyone - from myself and the board to the players and fans, who'll be very disappointed at his decision but how can you persuade someone to stay who doesn't want to?
"I was going to offer him a two or three year contract, but obviously he's made his mind up to go to pastures new."