February 26 2010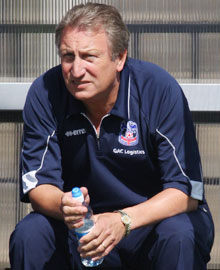 QPR have approached Crystal Palace's administrators to make a move for manager Neil Warnock.
Rangers are in search of a new manager to replace caretaker Mick Harford who is their fourth boss of the season.
Warnock's Palace future is uncertain with any new buyers likely to bring in their own manager to replace the former Sheffield United chief.
And with a £1m compensation clause in Warnock's contract, Palace's administrator would be keen to get his hands on the money for cash-strapped Palace.
"Somebody told me this morning that they are in conversation shall we say," said Warnock.
"There is no way I am going to walk out on the club. If they can agree compensation then that's a different ball game. At the moment I'm Crystal Palace manager and that's how I'll be.
"It is a mess, it's been very difficult for the last 12 months. First losing the 10 points [for going into administration] and then having to sell our best player [Victor Moses to Wigan], it's been one blow after another."
Warnock has been charged with improper conduct for his comments after Palace's 2-2 FA Cup fifth round draw with Aston Villa.
Warnock said assistant referee Trevor Massey should be banned for wrongly awarding a corner that led to Villa's late equaliser.
"I hope he is suspended for a long time," said Warnock. "We were let down by incompetence. The referee had a great game. He was let down by somebody who had a very poor game."