March 10 2010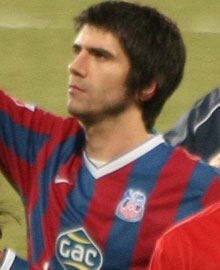 We pick out 10 of the best Crystal Palace hat-tricks. How does Danny Butterfield's treble against Wolves compare?
10. Mark Bright v Southend (h)
League Cup second round first leg, September 25, 1990
Mark Bright and Ian Wright were paired together for the first time since Wright broke his leg eight months earlier. Both strikers scored three goals each in Palace's record 8-0 cup victory so deserve equal praise. Bright got the scoring underway in only the second minute with a low shot after cutting in from the left, before converting Wright's cross for his second of the night and then his hat-trick with a header three minutes from time.
10. Ian Wright v Southend (h)
League Cup second round first leg, September 25, 1990
Wright's first goal was down to his tenacity in robbing a defender to rifle past goalkeeper Paul Sansome. The hotshot's second goal came from a header off the crossbar and he finished off his hat-trick with a deflected shot from a corner. Bright and Wright claimed the match ball after the game and gave it away at a charity auction.
8. Roy Summersby v Barrow (h)
Fourth Division, October 10, 1959
The club's 9-0 record league victory is thanks partly to Roy Summersby who scored four goals in this demolition of Barrow. It was the first time a Palace player had scored more than three goals in a match since the war.
7. Peter Simpson v Exeter (h)
Third Division (South), October 4, 1930
This entry is unique in that Peter Simpson not only recorded the feat of one hat-trick but he got two! The Exeter players shook the Scotsman by the hand after he buried his sixth goal of the afternoon and Hubert Butler added another in the 7-2 scoreline.
6. Ian Wright v Wimbledon (a)
First Division, May 4, 1991
Palace completed their final away fixture of the season on a high with Ian Wright banging in all the goals of a 3-0 success. He opened the scoring with a crisp low finish and then came one of the striker's greatest ever Palace goals. Wright collected Nigel Martyn's kick just inside the Wimbledon half and hit a sublime lob that dipped over the stranded Hans Segers from all of 40 yards. The third goal was an angled finish from close range for Palace's first "away" hat-trick since 1963.
5. Johnny Byrne v Crewe (h)
Fourth Division, August 23, 1958
Although Mike Deakin also notched a hat-trick in this 6-2 triumph over Crewe, it was the three goals from a young Johnny Byrne that stood out. Fans could see at the tender age of 19 that Byrne was a special player and his goals would eventually help Palace out of the league's bottom division.
4. Peter Simpson v Norwich (h)
Division Three (South) September 14, 1929
Glaziers fans had a glimpse of what was to come from goal-machine Peter Simpson after he bagged a treble on his senior bow - the only time a player has done so on their debut league appearance. His first goal was a low volley with the second and third coming off his head in the 3-2 win. It was the first of 19 hat-tricks Simpson would claim for Palace.
3. Dean Gordon v West Brom (a)
Division One, December 23, 1995
It's extremely rare to see a left-back score a hat-trick but Dean Gordon achieved the honour at the Hawthorns, scoring all the goals in a 3-2 victory. Gordon converted his first from the penalty spot after Mike Phelan handled in the area. He then went on a marauding run down the left wing before getting upended in the box for another penalty which he duly dispatched. And when a dangerous cross of his was put out of play for a corner, he nodded home Gareth Taylor's flick-on from a Jamie Vincent flag kick to complete his treble.
2. Andy Johnson v Brighton (h)
Division One, October 26, 2002
This was Andy Johnson's first Crystal Palace hat-trick and he picked the perfect opponents in arch rivals Brighton who were thrashed 5-0 at Selhurst Park. Johnson put his side in front early on before getting his second with a header and completing his hat-trick by winning and scoring a penalty.
1. Danny Butterfield v Wolves (h)
FA Cup fourth round replay, February 2, 2010
This makes the top spot for so many reasons. Danny Butterfield's treble is the quickest hat-trick in Palace's history with his goals coming inside an incredible seven minutes. But what makes it more remarkable is the right-back was pushed up front as an emergency striker for the game. He had scored just six times in seven-and-a-half seasons with Palace and he bagged the perfect hat-trick with a goal from either foot and his head in the 3-1 scalp.
---
Email the HOL editor with your comments to editor@holmesdale.net
In Depth Crystal Palace Top 10s