March 11 2010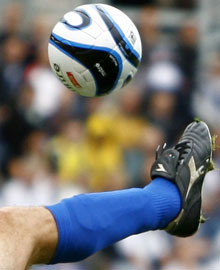 Crystal Palace travel to Barnsley on Saturday trying to net a first win in eight years at Oakwell, writes Simon Pophale.
Our overall record is not great at Barnsley, winning just eight times in 26 matches. Barnsley hold sway with 13 victories, so history is certainly not on our side when it comes to taking maximum points in Yorkshire.
A century of seasons
Barnsley have spent the much of the previous 100 seasons in the second tier, so it is no surprise that the majority of matches against them comes at Championship level. With only one trip as a top flight side (a 1-0 defeat in that fateful 1997/98 season) and three in Division Three; Barnsley have been, in the last 30 years, more regular opponents.
Our first Second Division journey lasted four seasons (1921- 1925) and of our four trips to Barnsley, we recorded only one win (2-1 back in 1922/23) and three defeats. The Tykes scored 11 goals over those three matches, the last of which in 1924/25 ended 3-0 and saw us drop out of Division Two at the end of the season.
It was the advent of regionalisation which would have kept us apart from 1925/26 until 1958/59 and our promotion to Division Three in 1961/62 brought us in contact with the Tykes for the first time in 36 years.
This was a resounding 3-0 win for us and we went one better in 1962/63 with a 4-0 win. The last fixture at this level was in 1963/64 as Barnsley emerged 2-0 winners. It was one of only 9 defeats that we suffered that season as we were promoted to Division Two, Barnsley finished in 20th place.
The last 30 years
With 18 meetings in 30 years, this has been the times where the teams have been in closer proximity. The 1980s saw us play all but two of these seasons in Division Two and so begun our longest sequence of matches against Barnsley. It was one that could be split into two halves, the first of which; between 1981 and 1985, was one of Barnsley ascendance, as they won three and drew only one of the encounters up north.
The second half, between 1986 and 1989 was much more profitable for us as we took maximum points twice, with only one draw and one defeat.
The 1990s saw the teams separated until 1993, when our Championship winning team beat Barnsley 3-1 in November as we remained top of the table. The mid-1990s saw a couple of draws (1-1 in 1995/96 and 0-0 in 1996/97) and Barnsley took full advantage of our forthcoming implosion in 1998, as we were trounced 4-0. We managed to round off this decade with a win, as in the opening game of 1999/2000, we won 3-2 at Oakwell.
The new millennium saw Barnsley win the first of these encounters in February 2001 with goal from old-boy/soon-to-be-ours again Neil Shipperley, as we finished the game with 10 men as Mulleteers' hero Craig Harrison was sent off.
Dark days of 2002
Barnsley are becoming part of a group of clubs, sadly, who can understand our current predicament as it happened to them back in 2002. The club was saved by the then mayor of Barnsley, Peter Doyle and they were one of the teams hit hardest by the collapse of the Digital ITV channel. Amidst this suffering, we turned up in February and took full advantage of the problems off the pitch.
With Kevin "Pie man" Miller in goal for the Tykes, we took the lead on the half hour with a goal by Dougie Freedman. Continuing the trend of ex-players scoring against us, Bruce Dyer netted an equaliser just before half-time.
We ran riot in the second half, with goals from Aki Riihilaati, Julian Gray (who later went on to play for Barnsley) and Ade Akinbiyi (one of his three goals for Palace) finished it off by scoring with his first touch. Barnsley fell into League One at the end of this season but survived to fight another day.
Barnsley returned to the second tier in 2006/07 and recorded a 2-0 win over us in April 2007. A 0-0 draw in 2007/08 was the best of the last three fixtures at Oakwell.
Last time out
Despite taking an early lead through Shefki Kuqi, we could not hold on as Jamal Campbell-Ryce pegged us back and despite going in level at half-time, further goals from the unfortunate Lee Hills, who turned in a Rob Kozluk cross and Michael Mifsud condemned us to a 3-1 defeat.
It will be a return for Paul Hart, as he managed the club in 2004/05. Let's hope for a return to winning ways too.