March 15 2010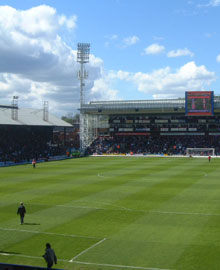 Leicester City visit Crystal Palace on Tuesday night with history not on their side in this fixture, especially in recent times, writes Simon Pophale.
It was been a while since Leicester have visited us in the league, August 2007 to be exact. And while regionalisation curtailed league matches between the clubs for over 55 years, history does go back to our first campaign in Division Two, back in 1921.
The four matches at home between 1921 and 1925, when Leicester won promotion and we went into the third tier (something Leicester have suffered for only one season), ended with two wins for both teams.
We bagged a 1-0 win in 1921/22 and a pulsating 4-3 win in 1923/24, while Leicester nicked a 1-0 win in 1922/23 and a 2-0 win on their way to the Second Division Championship in 1925, putting Manchester United in 2nd place.
Over the next 55 years, Leicester City achieved 2nd place in the First Division (1928/29), were runners up four times in the FA Cup (1949, 1961, 1963 and 1969), while winning the League Cup in 1964 and bizarrely, the Charity Shield in 1971.
Usually a match involving the League Champions and FA Cup Winners, Leicester were asked due to Arsenal being involved in Europe to play the season showpiece and duly won 1-0 against Liverpool.
1971 is where we pick up matches with the Foxes again following their promotion in the 1970/71 season, this time in the top flight. As in 1925, the sequence only lasted until we were relegated and the results reflected how we were struggling with a 1-1 draw in 1971/72 and Leicester taking all the points the following season, with a 1-0 win.
It would be much happier times when we met again in 1978/79. This was our Championship winning season and we swept Leicester aside with a 3-1 win.
Leicester joined us in 1980/81 by winning the Second Division title and despite this being a season for us to forget, we did manage a 2-1 over the Foxes in October. It should have served as a warning as both clubs fell into Division Two but Leicester finished 13 points clear of us, which just reinforces how bad that season was.
The following season, the rot had well and truly set in and amidst all our problems, Leicester won 2-0 but we exacted revenge in 1982/83 with a 1-0 win but with the yo-yo nature of both clubs, it was Leicester who returned to the top flight at the end of this season and it would be 1987 when the clubs would next meet.
The buzz around Selhurst was starting to form as Steve Coppell was beginning to assemble a side that would finally break into the promotion places and we started to get used to seasons where we were finishing in the top six, rather than mid-table obscurity.
Leicester would find that we respected no reputation and a 2-1 win in October 1987 showed our promotion credentials. While we had to wait until 1989 for promotion to come via the play-offs; our biggest win to date against the Foxes, 4-2, certainly helped us on our way.
While we enjoyed our longest stay in the top flight, Leicester remained in the second tier but we would meet again in 1993/94 and while we carried off the Championship, Leicester were put to the sword with a 2-1 win, but it did not deter Leicester who joined us in the Premiership via the play-offs. Again a Palace top flight victory (2-0) in 1994/95 again spelled doom as both clubs were relegated again.
Many words have been written about Steve Claridge's shinner in the final of the play-offs at Wembley the following season, yet Leicester managed a 1-0 win at Selhurst in April so we knew that we would be in a battle, in the final in May.
Leicester were now in their second big boom period and with Martin O'Neill at the helm, went to three League Cup finals and won two, while attaining creditable finishes in the top flight, which did not bode well for us as they stuffed us 3-0 in April 1998, as the trap door was opening beneath us.
Last time out
A 2-2 draw saw us continue our unbeaten start to the season as this was the first home game of 2007/08 and while we took a 30 minute with a Stuart Green free-kick, Leicester pegged us back with a goal from DJ Campbell and then going ahead with four minutes remaining with Patrick Kisnorbo heading Leicester in front. Clinton Morrison ensured we got a share of the spoils with his 99th goal in Palace colours.