May 31 2001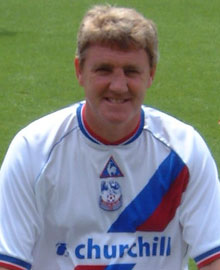 Former Manchester United captain Steve Bruce has been confirmed as manager of Crystal Palace in a Press Conference at Selhurst Park today.
Bruce has been given a three-year contract, and Steve Kember has been confirmed as assistant manager. Terry Bulivant will be first team coach.
Bruce said: "I think the one thing that is blatantly obvious when you meet the chairman is that he's a Palace fan.
"He's got a vision that he wants this club to be better than anyone else - that's why I'm here.
"The ambition is there for all to see. The aim is the play-offs."
Jordan added: "We'd be prepared to spend similar amount to last season. We don't need to sell players we're building the football for success and selling those players won't mean success."
"I firmly believe if we want to compete among the elite we would have to buy and build our own stadium," but added that it is not the be all and end all and that other clubs have done perfectly well without having ownership of their ground.