April 15 2010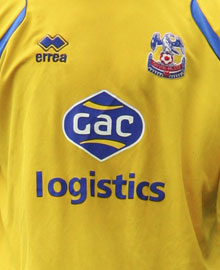 Crystal Palace head to Pride Park knowing only a win will do, but history is not on our side, writes Simon Pophale.
When Derby moved in 1997 to their new home Pride Park, with it went a chance to amend the terrible record we had at the Baseball Ground. Putting this into some sort of perspective, our league record at the Baseball Ground was:
Played 21 Won 3 Drew 4 Lost 14 Goals For 17 Goals Against 51
Splitting the matches with Derby at the Baseball Ground can be split into two distinct sections: our first journey in Division Two from 1921-25 and 1964 – 1996.
The Early Years
Our first four trips to Derby ended not only in defeat, but ritual humiliation a couple of times. In Derby's early life in the Football League they had been runners up in both the FA Cup (three occasions: 1898, 1899 and 1903) and also in the League (1896) and so their relegation to the Second Division in 1921 would have, especially after only regaining their status the previous season, deeply disappointing.
In the four games over the four seasons, we conceded at total of 16 goals and we did not even manage to hit the target. Our worst performance, a 6-0 hammering in 1922/23 on Christmas Day, stands as our worst defeat to Derby in any stadium.
That season saw games on consecutive days and on Boxing Day, we shared the points and the goals in a 2-2 draw at Selhurst. The following season Derby ran riot again, scoring five without reply.
1964-1996
Thirty two years and while time can be said to be a great healer, for our form at Derby it certainly wasn't. Despite bagging a 3-3 draw in 1964/65 (our first goals at Derby) on our return to the second tier we finished above Derby in the league; the first time we ever managed this feat. However the following season Derby remembered what their predecessors of the 1920s managed and ran out 4-0 winners.
A year later in 1967, Derby appointed Brian Clough and while this story has been now immortalised in film and in many books, a Derby County with Clough at the helm did not reap instant benefits.
We managed a 1-1 draw in 1967/68 and the following season, where we finished as runner-up to enter the First Division for the very first time in our history, the only team to finish above us was Clough's Derby. But we achieved a 1-0 win there in a midweek March fixture which was the first time we managed to take maximum points at the Baseball Ground.
It is fair to say that the only time we won at Derby was when we had an outstanding team, so promotion or success could be measured by our results there.
In 1979-80 and in 1990-91, we managed victories there by 2-1 and 2-0 and in both seasons we finished our highest positions in the league to date, with a 13th place finish in 1980 and a 3rd place finish in 1991.
Take Pride
On our very first visit to Pride Park we managed a 0-0 draw in what was our ill-fated Premier League season. Ten years later, Derby would go a lot worse by winning only one match all season, equalling the 108-year old record set by Loughborough. Since then, we have played Derby five times and we have won two and lost three so let's focus on the two wins!
5th March 2003: Derby 0-1 Palace
A Tommy Black goal brought us our first-ever three points against the Rams in their new arena which led the ever-ebullient Trevor Francis to state "It's been very frustrating not scoring but when we have scored we normally don't lose. This has rekindled our spirits and if we had lost it would have been very difficult for us to mount a challenge. But now we go to Bradford on Saturday with far greater confidence." We lost and there were no play-offs that season.
Last Time Out: 6th December 2008 Derby 1-2 Palace
It was a case of a nick-nack Paddy whack as we took an early led with an audacious strike from 40 yards from Paddy McCarthy. Chesting down a clearance following a free-kick, the Irishman smacked it straight back past Roy Carroll in what had to be goal of the season.
Although Derby equalised with a controversial Luke Varney effort before half-time, we retook the lead with a Shefki Kuqi goal just after the hour and we held on to inflict a home defeat on Derby for the first time in three months.
We need a repeat of this on Saturday to kick-start the push for safety.