April 18 2010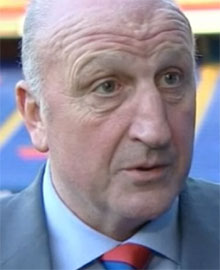 Crystal Palace boss Paul Hart insists he was right not to start with Stern John in attack in the 1-1 draw with Derby.
John was introduced for the second half and created a number of excellent chances, eventually scoring an 86th minute equaliser to earn Palace a vital point.
Some observers felt the former Southampton forward should have started, but Hart who has Calvin Andrew and Alan Lee sidelined, said: "We have two centre-forwards injured and Stern is not getting any younger.
"We are walking on egg shells with our forwards at the minute. Stern was an option to start but I chose not to use it. The better option was for him to come on.
"I have no regrets at not starting him, it was the right decision on the day to start with what we had got.
"It was probably a game of two halves, we were off the boil in the first half and we had to regroup quickly at half-time. But on the strength of our performance in the second half, I thought we were unlucky not to win."
Derby manager Nigel Clough said: "It was a great first half from us which probably warranted more than the one goal and we have to learn how to go on and get a second when we are on top," he said.
"We seemed to get caught inbetween a little bit in the second half, whether to go for a second goal or to sit and defend and in the end we did neither.
"But give credit to Palace, they threw bodies forward and caused us problems, that's why they have only lost five away games this season.
"But I wish we had put our foot on the ball more in the second half, I think that was the problem."