April 21 2010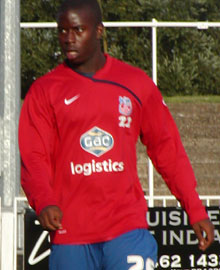 Kieron Cadogan's last gasp goal helped Crystal Palace reserves to a 3-3 draw at home to QPR.
Nathaniel Pinney scored a brace to ensure a point for Palace that extends their lead at the top of the table.
Midfield duo Nick Carle and Alassane N'Diaye started the match at the Beckenham Training Ground but they could do nothing to stop their side going a goal down five minutes before the break.
Matteo Alberti nicked the ball off N'Diaye on the left wing and his cross was flicked on by Elliot Cox for Max Ehmer to volley home.
Palace were on level terms from the penalty spot just before the interval when Danny Fitzsimmons handled Nick Carle's free-kick in the box. Pinney's kick was saved by keeper Shane McWeeney back into his path and Pinney put the rebound away.
Two minutes into the second half, Palace went ahead for the first time when Pinney's shot was saved on the line by a QPR defender and the youngster made space to turn and score at the second attempt.
Rangers equalised in the 77th minute through a low shot from ex-Fulham player Moritz Volz 18 yards out. Five minutes from time, Volz put his side 3-2 up with another powerful drive past Eagles keeper Charlie Mann.
But deep into stoppage time, Cadogan grabbed the equalising goal from Pinney's cross-cum-shot to preserve Palace's unbeaten home record.
Palace: Mann, Nelson, Abnett, Kasim, Nnamani, Holland, Cadogan, N'Diaye (Ledgister 66), Pinney, Carle (Adelakun 74), Djilali.
Not used: Comley, Parsons, Holness.
Reserve reports, fixtures and table