April 24 2010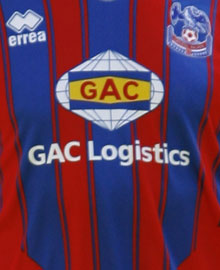 With only the last 40 years to draw on, matches against West Bromwich Albion have involved only a smattering of matches in each decade, writes Simon Pophale.
West Bromwich Albion were the fortunate recipients of our relegation back in 2005, when they stayed up on the last day at our expense. Since then, West Brom have been a yo-yo club, oscillating between the Premiership and the Championship with alarming regularity.
While this season will bring an end to having to endure Baggies fan Adrian Chiles on Match Of The Day 2, it will also bring to an end another short stay in the Championship as West Brom have been promoted as runners-up back to the Premier League.
Yet, this was not always the case. In fact between the years of 1946-1986 the Throstles only spent six seasons outside the top flight; which explains why we did not cross paths until our promotion to the top flight in 1969.
Matches at Selhurst Park against West Brom have, in the league, been evenly shared as we have managed seven wins, with seven matches draw and the Baggies taking the maximum points the remaining seven times. We have a plus one goal difference over these matches (24-23) so it would point to these matches being tight affairs.
But this is not the case as we have notched up some impressive wins over our Midlands opponents. In 1970/71 we won by 3-0 as we sought to establish ourselves in Division One however the remainder of the matches in the 1970s did not go our way.
West Brom won all the others in our first stay in the top division by two clear goals and although both clubs were relegated together in 1972/73, the following season we managed to win by a single goal.
Things got slightly better with the Team of The Eighties as we drew 2-2 in January 1980. This was a West Brom team full of quality players like Laurie Cunningham, Brendon Batson and Cyrille Regis. The following season, we lost 1-0 at home.
It would be five more years until we would play West Brom again. Following their relegation after a 10 year stint in the top division, we managed a 1-1 draw in the 1986/87 season before we thumped them 4-1 the following season.
Our promotion season of 1988/89 saw us win 1-0 to continue our momentum into the playoffs and it would be our own top flight stay that stopped matches between the sides until we were relegated in 1992/93.
By this time, it was ourselves that had become the "yo-yo" club and 1993/94 saw us take the First Division title and we beat West Brom 1-0 along the way.
Two seasons later, we would do the same although our season ended at Wembley. In 1996/97 we drew 0-0 as we would successfully regain our Premiership place via the play-offs but our return to the 1st Division brought another draw against the Baggies, this time with a 1-1 score line.
The last 10 seasons have not brought us much success against the Albion and with only one win and three draws at home in the last seven seasons, the focus will solely be on this victory and our last meeting.
26/10/2004 Palace 3-0 West Bromwich Albion
It is not often that matches in October are dubbed relegation six-pointers but following our abject start to life in the Premier League, there were signs that we could turn the corner and West Brom came to Selhurst just as we were starting our purple patch.
Iain Dowie had dubbed this game "the biggest of the season" and he clearly transmitted this to the team as we opened the scoring after just five minutes. Wayne Routledge's cross finding the bonce of Fitz Hall. 7 minutes later, we made it 2-0 following an Andy Johnson penalty, which the diminutive striker won himself after he was pushed in the back by Martin Albrechtsen.
His second, after the restart, was all down to the strikers power and pace as he sprinted 25 yards past a weary West Brom defence and shot across Russell Hoult, putting the destination of the three points in no doubt.
Last Time Out: 01/12/2007 Palace 1-1 West Bromwich Albion
As well as that match in 2004 began for us, this was the complete opposite. West Brom took an early lead through a Mark Hudson own goal following a Jonathan Greening cross. We managed to equalise a quarter of the way through the match through Clinton Morrison who finished from close range.
A win could secure, depending on other results, Championship football for next season so never has doing a "double" over the Baggies been more required than now, a feat last achieved in 1995/96.