April 28 2010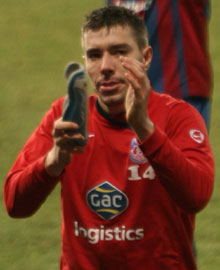 Darren Ambrose has vowed Crystal Palace "will give everything" to avoid relegation in Sunday's win or bust match at Sheffield Wednesday.
Palace need a point against their rivals in order to avoid the drop, while Wednesday must win to preserve their Championship status.
Ambrose, 26, is relishing the massive showdown and Palace's top scorer reckons survival would be his biggest footballing achievement.
"This is what football is made of, games like this," said Ambrose. "Whether it's an FA Cup final or a game to keep you in the league, it's the type of games you want to be involved in.
"We've played well this season, we've pulled off a lot of shocks and hopefully we can finish it off in style.
"If we do I think it will be the best achievement of my career, with the situation we've been in, and with the things that have been thrown at us. We've had injuries, suspensions, the 10 points.
"I think if we're half as good as we were on Monday, at Hillsborough, we'll be OK. We've got an even bigger game at Sheffield Wednesday, but it's now a cup final. That's what we're saying and what we're aiming at and we're going to work towards that.
"The eleven that go out there will give everything. We don't deserve to be here but we are here and we have to get our heads around this game.
"It has felt a bit like being in a soap opera this season, but it's been like that for me for the last few seasons to be honest."