June 17 2010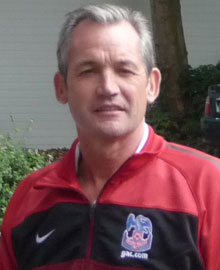 Crystal Palace have announced that former Scotland boss George Burley has been named as manager.
Burley, 54, who has previously managed at Ipswich, Derby, Hearts and Southampton will have former Palace legend Dougie Freedman as his assistant.
Speaking at a press conference at Selhurst Park to announce his appointment he said: "It is a privilege to be here."
"Everybody in football, especially Crystal Palace fans, will be pleased that the new consortium has come in to save the club.
"I feel it is the time to rebuild. Being in administration for the past five or six months hasn't been easy. We've lost a few players and there are a few players out of contract, but I'm looking forward to the challenge and I'm excited about it.
"I think it is important for the fans to have a nucleus of young players and a club with strong foundations that is built for the future.
"I'm glad to be back in club football and hopefully, like I did at Ipswich, I can take the club back to the Premier League."
Speaking about his hopes for the new season, Burley added: "It is not going to be easy. We will be looking to stabilise and get in the top six if we can, but really it is about rebuilding and getting a strong squad together."
When asked about appointing Freedman as his number two Burley said: "I'm pleased that Dougie accepted the role as assistant. Not just because he's Scottish, but a big favourite at Palace.
"Very intellegent player, very enthusiastic about a coaching role, we'll work very well together."
The press conference was also the first public appearance for CPFC 2010 consortium directors Martin Long and Steve Parish since taking over the club.
Parish said: "George doesn't have to sell anybody and any money he raises from player sales he can reinvest. We've got a decent wage bill.
"We've got a fantastic academy and you've seen some of the players who came through - Victor Moses and Nathaniel Clyne - and there are more we've got great faith in. We're looking to fund that and make sure we've got an equal balance of looking at now and tomorrow.
"What we've said to George is we're not prepared to risk the future of the club on one player or a dream. We've seen it too many times at Crystal Palace - there have been too many big-name signings that haven't worked out for one reason or another and it had led to the issues the club has got into."